DISNEY HAS VIOLATED THEIR SACRED TRUST WITH PARENTS AS THEY ACTIVELY PLAN TO INDOCTRINATE AND SEXUALIZE THEIR CHILDREN – IT'S ALL ON TAPE.
Like so many, I have been a Disney fan my entire life. As a child, I loved Davy Crockett with Fess Parker and watched the Wonderful World of Disney. As a parent and grandparent who has taken his family to Disney World multiple times, I am angry.
At first, I was angry at their over-the-top radical resistance to a Florida law that simply says schools cannot sexualize children in elementary school. I will make this law a top priority in the next session. This issue will be addressed in our interim Education Committee hearings under Parental Rights. But now private videos from Disney officials have emerged where they purposely plan to indoctrinate my grandkids and your children and grandchildren on the issue of sexuality.
Just this week they also announced they will no longer address anyone with the greeting "boys and girls" and "ladies and gentlemen" at their parks. This crazy "woke" radical agenda is pushed by a few, but rejected by almost everyone in America, across all political spectrums.
Parents trusted the Disney brand, all while Disney was undermining parents who believed Disney was a quality and good company. Here are a few brazen Disney officials who make it clear they intend to indoctrinate the children of America with their radical "woke" views.
>>> Watch These Leaked Video Clips Exposing Disney's 'Gay Agenda' <<<
So, what can we do? Until they change their corporate philosophy, stop spending money with them. Cut off the Disney Channel. Cancel your park trip or your cruise if one is planned. If you own Disney stock, sell it. Although I did not own many shares of individual Disney stock, I sold them today. Write a letter to their company or call them with your polite, but clear disappointment and tell them they must change or you are through with them. And spread these videos to your friends. People must see what has been going on behind the Mickey curtain.
I know your kids and grandchildren will be disappointed and may not understand. But, would you rather have them indoctrinated by Disney radicals?
I just got back from Disney about a month ago. If I had known then how they would respond to the Florida law and if I had seen those videos, they would not have gotten one penny from me.
Some may think parents, including me, are overreacting. We are not. Disney is a massive international company planning to indoctrinate children around the world with radical ideas. If we cannot fight for our children, then what can we fight for?
My 2022 Interim Charges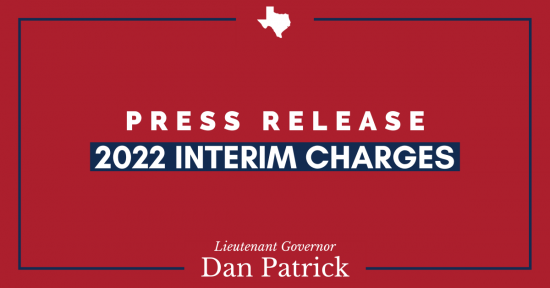 The interim charges I released today reflect my priorities, the priorities Texans shared with me as I traveled the state and those of the members of the Texas Senate. Senators submitted nearly 600 policy recommendations for the Senate to study before next session. My staff and I spent nearly a month reviewing these recommendations. Our final list of 84 charges continued to be revised through this weekend. The committees will begin work in the coming weeks. The full list of my 2022 interim charges are posted here.
The Biden Border Crisis Rages On…
The Biden Administration has done NOTHING to improve the catastrophic border crisis that Biden himself created! His inaction makes it clear that he does not care about the lives of the people. I was on America's Newsroom with Dana Perino last week morning to talk about it. Click here to watch.
Harris County Citizens at Risk – Public Safety Compromised
Harris County government is broken. News leaked last week that they mistakenly released nearly 300 criminals from jail, dumping them on Houston streets, freeing them to commit new crimes and prey upon our citizens. This is just the latest example of dysfunction and incompetence from Harris County leadership. Click here to read my press release. I have added this to my list of interim charges that will be addressed next session.
Today is My Birthday
This is one of my favorite birthday photos – taken back in 2017. I made the joke that only Chuck Norris could cut a cowboy hat birthday cake with one chop and not get any icing on his hand.
Today is my birthday. I have been very blessed and very grateful for all God has given me – more than I ever deserve.
And I am very grateful to the millions of Texans who have given me their trust and vote. We set a record number of votes this year for any primary candidate in Texas history.
I believe that is because the Senate does not waiver on taking strong conservative positions on important issues and passing that legislation.
The Texas Senate is the conservative voice in the country. I salute my Republican Senators for fighting for those values. It is sometimes a tough fight, but they always come through. As Lt. Governor, I am only as good as my excellent staff and my Republican Senators. It is not a one-man show.
Serving as the President of the Senate as Texas Lt. Governor is a great, great honor.
"For I know the plans I have for you, declares the Lord, plans for good and not for evil, to give you a future and a hope."
Jeremiah 29:11
"So teach us to number our days that we may get a heart of wisdom."
Psalm 90:12
May God bless you and your family, and may He continue to bless the greatest state of all—Texas.
Sincerely,
Dan Patrick
Lieutenant Governor of Texas