Twitter
Jan and I send our best wishes to Governor @GregAbbott_TX and @TexasFLCA — who both celebrate their birthday today. Happy birthday to the two of you! 🎈🎉
Twitter feed video.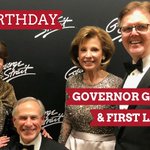 This week's email was a lot longer than usual, but there are a number of important issues I wanted to discuss. I hope you will take time to read it & share it with all of your friends. Ask them to join us in our fight to #KeepTexasRed! #ICYMI: #txlege
Why We Must Unite In 2020 (or everything you wanted to know about the 2019 session, and more) - Dan Patrick, Lieutenant Governor
Read Lieutenant Governor Dan Patrick's weekly email update.
bit.ly
Load More...