Twitter
Tomorrow marks the two year anniversary of #HurricaneHarvey. The spirit, commitment & courage of Texans who were impacted by the storm & the volunteers who came to assist in the rescue & recovery efforts is something I'll never forget. We showed what it means to be #TexasStrong.
Are you on our email list? Sign up to receive weekly updates: https://t.co/kuqMa9CaJt #txlege
Twitter feed video.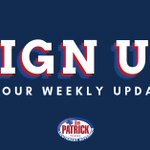 In case you missed my "heart-to-heart" talk with @MarkDavis on Monday, listen here: #txlege
Load More...