A Long-awaited Victory Today for Public Prayer by the Supreme Court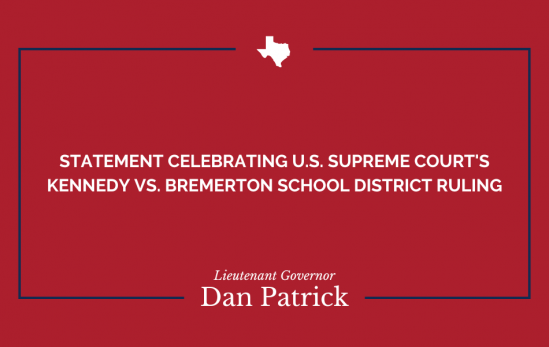 You can read my press release here.
My Speech at the RPT Convention
"Lord I humble myself to you.
I turn my face to you.
I will focus on you.
I will turn from my wicked ways.
Lord, I ask that you forgive me and I ask for you to heal this land.
We praise you and love you, Lord.
Amen."
At this moment in time, we're in more than just a battle between Republicans and Democrats in this country — we're in a battle of darkness and light. We know that where God is not allowed, evil can easily walk-in in many forms.
Two weeks ago, when I spoke to 4,000 people at the Texas Republican Convention, I decided to close my 20-minute speech in prayer on a particular verse and asked everyone to pray for our nation. I'm hoping this will start a national trend for people who are called by His name to pray for God to heal our land.
You can click here to watch the short video.
National Association of Christian Legislators Conference
Last weekend, I was honored to give the keynote and receive the George Washington Lifetime Leadership Award from the National Association of Christian Legislators.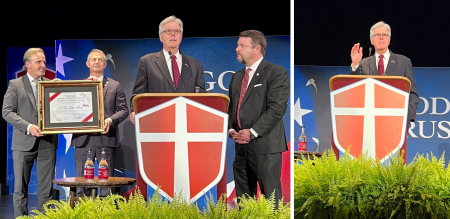 Senator Bryan Hughes, who was named Legislator of the Year for passing the Heartbeat Bill, and Texas House Representative and NACL Leader Tom Oliverson, presented the award. We were also joined by our Capitol Minister Scot Wall.
A Giant Win for Life!
I am so glad that last Friday, the Supreme Court overturned Roe v. Wade! Life is a God-given gift, and Texas will ALWAYS take a stand to protect it. It was a very historic day and a GIANT win for life!
More on the SCOTUS' Reversal of Roe v. Wade with Rick Roberts
On Friday, following the Supreme Court's decision, I joined The Rick Roberts Show to discuss the SCOTUS reversal of Roe v. Wade. In case you missed it, you can click here to listen.
Speaking at the Arlington Republican Club
I had the privilege of speaking to the Arlington Republican Club last week. We had a great time discussing Republican priorities and the importance of keeping Texas red!
Univision Tour in Dallas
I visited the new Univision studios in Dallas last week. I had an opportunity to meet with their news team to discuss the upcoming session and election.
Thank you all for your support and for everything you do to keep Texas red. May God bless you and your family, and may He continue to bless the greatest state of all—Texas.
Sincerely,
Dan Patrick
Lieutenant Governor of Texas