A HUGE Success at CPAC
I had the privilege to speak at the Conservative Political Action Conference (CPAC) last week in Dallas. I focused my speech on party unity and how we must come together as one to defeat the Democrats from their goal of turning Texas into another California. As I did at the Republican Party of Texas Convention in June, I asked the audience to stand and pray the verse, 2 Chronicles 7:14, for Jesus to heal our Nation.
I pray before every speech I give for words and wisdom, whether it's in the car on the way to the event by myself, or if it's with others who ask to pray for me, as the National Association of Christian Lawmakers President Jason Rapert did at CPAC.

Pictured with Sean Hannity, who also spoke last week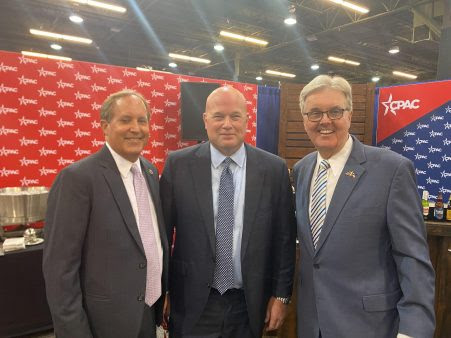 With AG Ken Paxton and former Attorney General Matt Whitaker

We must unite to defeat the Democrats in November.
Disney is not about Mickey's Musketeers…they are just Mickey's "Profiteers"
Have you seen this? Disney+ Middle East recently announced that the company will not release "Lightyear" or "Baymax" on its platform due to LGBTQ references and characters.
Disney Corporate obviously has no value system for anyone at all. In America, they caved to the political arm of the LGBTQ movement and went against many families with their "woke policies." But in the Middle East, they sell out the LGBTQ political wing to governments. That shows their only principle is "money for Mickey and their contorted views."
Make Mickey Pay
Not only is Disney the new "woke" kingdom, trying to indoctrinate your children with leftist ideology, but they also owe Texas a lot of money, along with a few other streaming services. If you never paid your monthly fee to them, watch how long before they would cancel you.
Thank you all for your support and for everything you do to keep Texas red. May God bless you and your family, and may He continue to bless the greatest state of all—Texas.
Sincerely,
Dan Patrick
Lieutenant Governor of Texas