NEW VIDEO JUST IN
Click here to watch my most recent video from my tour of the Rio Grande Valley.
EARLY VOTING HAS STARTED!
You can vote early now through November 4th.
The future of our country is on the ballot this November. It's going to take every single grassroots conservative doing their part to help us win big on November 8th and stop the radical left. This could be a record-setting turnout election. We will win if Republican voters turn out in big numbers. Please vote in this important election and vote red all the way down the ballot.
Thank you,
Dan
– Find your polling place.
– Make a plan.
– Bring a friend, family member, neighbor, or co-worker.
– Vote REPUBLICAN all the way down the ballot!
Mon, Oct 24 – Fri, Nov 4: Early Voting
Tue, Nov 8: ELECTION DAY
Early voting started yesterday. Eddie Lucio, a Democrat Senator from the Rio Grande Valley who served for 32 years in the Senate, the last 16 with me, endorsed me. He is encouraging all Democrats in the Valley to vote for me. He proudly cast his vote yesterday for me.
Back to Beautiful Corpus Christi to Honor Law Enforcement
I was in Robstown, just outside Corpus Christi, on Saturday night for the huge Trump rally. After going back to Houston and San Antonio for two church speaking engagements, I headed back to Corpus Christi yesterday to speak to 1,200 police officers taking their biannual training. I went down to thank them for what they do for Texas. I told them the overwhelming majority of Texans support them.
I'm honored to have the endorsement of law enforcement all across Texas.
A Beautiful City on the Coast
A lot of Texans have never been to Corpus Christi. It sits on the Texas Coast. They have a wonderful aquarium, the historic USS Lexington Aircraft Carrier, and beautiful views.
The area has seen Republican growth year after year.
 Our Bus is on the Move from Corpus to East Texas
I'm in East Texas for the next several days on my bus tour to get out the vote. Continue to read my future emails to see where we stopped!
#PatrickBusTour Giveaway: Enter to Win a Campaign Gift Bag!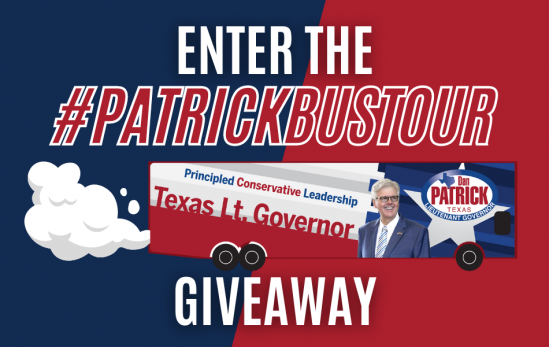 If you see me in your town, take a picture of my campaign bus using the hashtag #PatrickBusTour on social media (Facebook, Twitter, Instagram) and tag @DanPatrick to be entered to win a campaign gift bag! Keep a lookout for the bus – I hope to see you out on the road.
Thank you all for your support and for everything you do to keep Texas red. May God bless you and your family, and may He continue to bless the greatest state of all—Texas.
Sincerely,
Dan Patrick
Lieutenant Governor of Texas