MARK YOUR CALENDARS!
Early Voting for the Primary Election
Begins: Mon, February 14, 2022 Ends: Fri, February 25, 2022
No More Critical Race Theory
Have you seen my newest ad?
Click here to watch my newest campaign ad, which is now playing across Texas!
Campaign Events with Senator Angela Paxton
There was a great turnout at Senator Angela Paxton's campaign event in Greenville, Texas on Monday night. I love all the old movie theaters I get to see traveling around the state!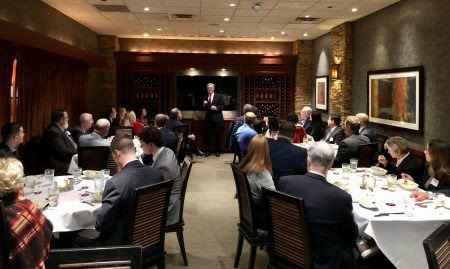 As I traveled across the state from Midland to Tyler, McAllen to Amarillo and all points in between, I made a stop in Dallas with Senator Angela Paxton for a lunch to help in her re-election bid. I have been working hard to get steadfast Republicans elected into the Texas Senate. I need their support so we can continue to pass strong conservative legislation that you, the people of Texas, expect from us.
A Trip to Belton
​​On Sunday night, I attended the University of Mary Hardin-Baylor's baseball season kick-off banquet in Belton, Texas. The head coach is Mike Stawski, who took Concordia to the Division 3 College World Series before joining UMHB.
An Event with Kevin Sparks
I was in Dallas Tuesday evening for an event with Kevin Sparks. Kevin is running for Senate District 31 and he is the right person for that job. Kevin has deep roots in the district with the business experience, intellect, and common sense to represent the great people of West Texas in the Texas Senate.
Municipal Government Run Amok
Can you believe this? People who serve on city boards in Denton are no longer required to be U.S. citizens—or even lawful residents. They are completely out of touch!
Our Stars and Stripes
I'll catch the Super Bowl game on Sunday, like millions of others, and I'm especially looking forward to hearing the Star-Spangled Banner at the start of the game.
I wrote and passed legislation requiring sports teams that take any public money to play the national anthem – which has become a national model.
Even for those who are not avid fans, sports are a shared experience for Americans of all ages and backgrounds. Our national anthem reminds us that America is the land of the free and the home of the brave! Texans will always stand for the stars and stripes!
More Organizations Endorse My Campaign
Thanks to the Texas Association of Business PAC and San Antonio Professional Firefighters Association for endorsing my campaign!
For a full list of my endorsements, click here.
As long as I am your Lt. Governor, I will fight to keep Texas the land of freedom, oil, guns, and most importantly, God. If we continue to stand together, Texas values will prevail. May God bless you and your family, and may He continue to bless the greatest state of all—Texas.
Sincerely,
Dan Patrick
Lieutenant Governor of Texas