Jan and my prayers go out to the Texas communities hit by Friday's tornado and severe storms. Caviness, Powderly, Hopewell and other communities in Lamar County, Texas were hit especially hard.
I was in Lamar County just a few weeks ago on my bus tour. I talked to county officials over the weekend to get the latest assessment of the damage and offer any needed assistance.
The county officials told me the citizens of the county and surrounding counties were out cleaning up and clearing debris. They said the spirit is strong and their citizens are resilient.
The Texas Division of Emergency Management is on the ground to help those impacted. Encore is working to restore power as quickly as possible.
Texans helping Texans has been a hallmark of who we are as a state.
TOMORROW IS ELECTION DAY…VOTE GOP!
We can't let the Democrats turn Texas into California. We are the last hope for America!
We need every single Republican to turn out to the polls tomorrow and VOTE RED all the way down the ballot. Voting hours are 7AM to 7PM at all polling places statewide.
I am counting on your support to continue advancing conservative values and policies in Texas. I would be honored to have your vote. Click here to find your polling location.
Attending the Second Baptist Church Service in Houston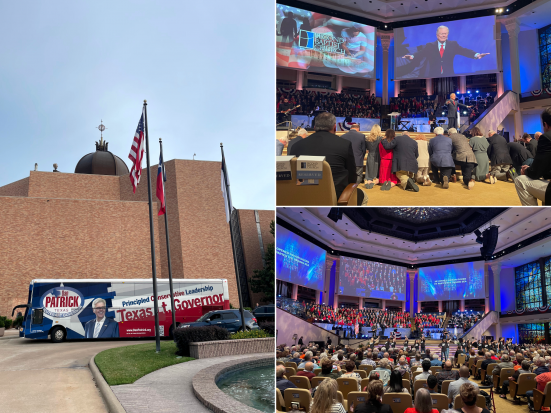 On Sunday, Jan and I attended the Second Baptist Church service in Houston. Over 1,000 people were in attendance. We parked our campaign bus out front so churchgoers could see it up close!
What a Great Night for Astros Fans!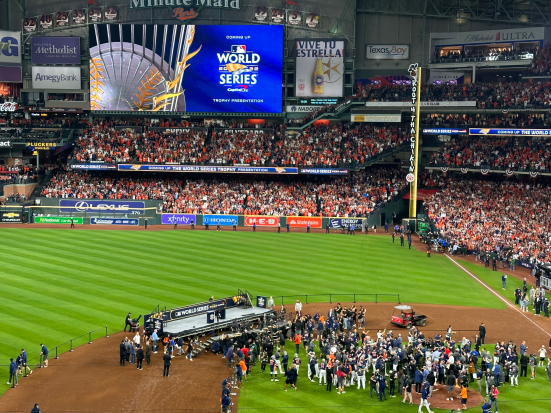 Congratulations to the Houston Astros. It was an incredible World Series. A no-hitter by the Astros with great fielding plays, clutch hits, and home runs. I had a chance to share it with my son. We've been going to Astros games for over 30 years.
Last summer I bought a bat by Yordan Alvarez and we gave it away to one lucky winner who entered our sweepstakes. I was a fan of his and thought one day everyone will want one of his signed bats.
He hit a massive home run Saturday night to win the game for the Astros. That bat will likely go up in value for our lucky winner. But my guess is they will want to keep it.
What a great night it was for Astros fans!
While We're on the Subject of Baseball…
Enter to Win a Signed Nolan Ryan Jersey!
Nolan Ryan is a Texas legend. From his early days pitching at Alvin High School to his Hall of Fame career that included stints with the Houston Astros and the Texas Rangers, Ryan exhibited a brand of excellence and grit that we pride ourselves on here in the Lone Star State.
Now, YOU have a chance to own a piece of Texas history. Anybody who contributes $5 or more to our campaign will be automatically entered to win a hand-signed Nolan Ryan Rangers jersey.
We will be selecting our winner on Election Day, so be sure to contribute today! Every $5 you donate earns you an extra entry to win. Contribute $5 or more today!
Thank you all for your support and for everything you do to keep Texas red. May God bless you and your family, and may He continue to bless the greatest state of all—Texas.
Sincerely,
Dan Patrick
Lieutenant Governor of Texas