On the last day of my Rio Grande Valley Tour, I began my day at Julia's Restaurant and had a Texas-sized breakfast taco! I spoke with people from the local community about the issues they would like to see addressed after the election. They are ready to get out and cast their vote for me for re-election this November.
Next, I headed to Port Isabel to check out their historic lighthouse and walk down Pirate's Landing. Everywhere I go on the bus tour, I meet new Texans. This couple moved from Chicago. They introduced themselves to me and said they could not get to Texas quick enough.

Henry, the owner of Rio Grande Distillery, came up and gave me a tour of his establishment. He's a reformed moonshiner who now makes legal whiskey. He has a great bar with a great atmosphere. He had his dad's old guitar behind the bar so we sang a short tune together.
Lunch in Brownsville was a wonderful event. It's great to meet people from across the Valley when I go table to table to introduce myself and tell them about the upcoming election. Everywhere I go, I hear people say, "you've got my vote!"
Adam Hinojosa, to the right, is running for the Texas Senate. If elected, he would be the first Republican in history from the Valley to be elected to the Texas Senate. His district goes from Nueces County to Cameron County.
Next, I headed to the Capital of Handmade Boots, Mercedes, Texas! I got a tour of the Rios of Mercedes Boot Company and got to see firsthand how they make their boots. They turn out hundreds of pairs of boots a week and sell them to retailers across Texas, like Cavenders, Boot Barn, and others. Owners Ryan and Jode have continued the family tradition of making great boots.
I visited the Iwo Jima Monument in Harlingen to pay my respects and remember all of the brave Americans who made the ultimate sacrifice. My dad was a Marine and fought in the South Pacific in WWII. There is an interesting story connected to the flag and Harlingen. The first soldier in the group is Harlon Block. He was born in the Valley. He wasn't officially identified as the soldier who planted the flag until 1947. Here is more on the monument.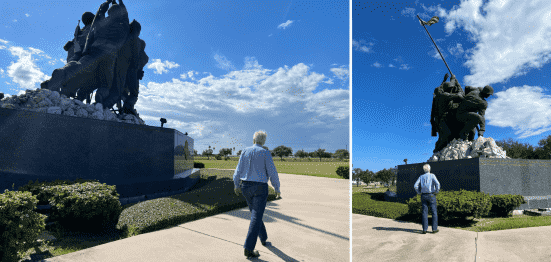 I was running early for my next stop so I decided to stop by the beach to admire our beautiful coastline. While there, I met several Texans and we discussed the upcoming election. I met two folks from Dallas enjoying the beautiful day — great Republicans. There's nothing like campaigning on the beach.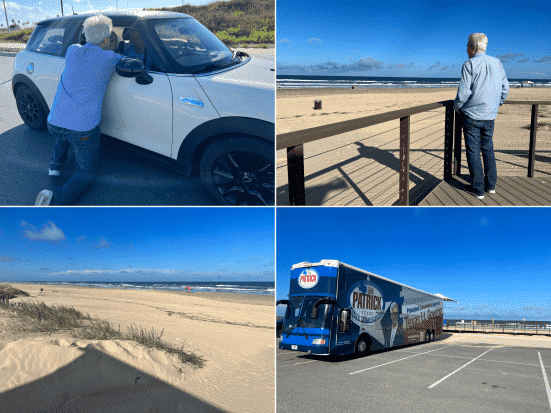 I was honored to be with Senator Lucio to end my night on South Padre Island for two great events at the beautiful South Padre Island Birding Center and later on at the beach to help raise money for scholarships for students in need. He was kind enough to present me with his 2022 Texas Legend Award. Senator Lucio, a conservative pro-life Democrat, is working hard in the Valley for my re-election. He's a great friend.
Win a Campaign Gift Bag Using the #PatrickBusTour Hashtag!
If you see me in your town, take a picture of my campaign bus using the hashtag #PatrickBusTour on social media (Facebook, Twitter, Instagram) and tag @DanPatrick to be entered to win a campaign gift bag! Keep a lookout for the bus – I hope to see you out on the road.
Please forward my emails or tell your friends and family to join my mailing list to follow along for more on my travels!
Thank you all for your support and for everything you do to keep Texas red. May God bless you and your family, and may He continue to bless the greatest state of all—Texas.
Sincerely,
Dan Patrick
Lieutenant Governor of Texas