THIS IS THE LAST WEEK OF EARLY VOTING!
Election Day is November 8th.
The future of our country is on the ballot this November. It's going to take every single grassroots conservative doing their part to help us win big on November 8th and stop the radical left.
YOU NEED TO VOTE TO KEEP TEXAS RED! DON'T LET DEMOCRATS TURN TEXAS INTO CALIFORNIA. Click here to find your polling place.
The Patrick Bus Tour Continues

Check out our most recent video across North and East Texas and finishing at the San Jacinto Monument…
Click here to watch my most recent video highlighting some stops along the road.
Making my way to San Antonio
I was out at sun up on Sunday morning making my way to San Antonio for two church services at Cornerstone with Pastor John Hagee. The view from the plane was spectacular.
There will never be another Rush Limbaugh
I was sent this photo from the latest book on Rush Limbaugh written by his brother, David.
This shot is from my radio studio at KSEV in 1992. Rush did the show from Houston during the Republican National Convention held in Houston that year. Seems like yesterday, but it was 30 years ago. That's hard to believe.
Rush was a great friend. He changed politics and talk radio forever. There will never be another Rush Limbaugh.
#PatrickBusTour Giveaway: Enter to Win a Campaign Gift Bag!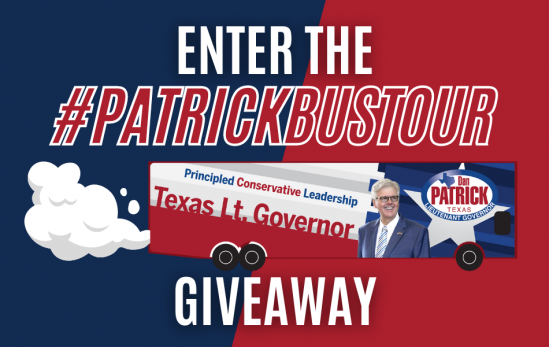 If you see me in your town, take a picture of my campaign bus using the hashtag #PatrickBusTour on social media (Facebook, Twitter, Instagram) and tag @DanPatrick to be entered to win a campaign gift bag! Keep a lookout for the bus – I hope to see you out on the road.
Thank you all for your support and for everything you do to keep Texas red. May God bless you and your family, and may He continue to bless the greatest state of all—Texas.
Sincerely,
Dan Patrick
Lieutenant Governor of Texas