A Big Win for One of My Priorities
Friday night, the 5th Circuit upheld one of my priority bills from last session, to stop social media companies from censoring conservatives on their media platform. This is a BIG WIN for one of my priority bills and for Texas!
The Buses Keep Rolling and the Dems Keep Crying
The Democrats are spiraling out of control as we continue to send buses of illegal migrants to their states. Texas is going to keep the buses coming until the Biden administration wakes up! It is high time to secure our border. I joined Fox & Friends early Saturday morning to talk about this and more. Here's a clip from the interview.
The Leftist Elite Need to Own What They Support
I also joined Laura Ingraham on her program Thursday night to talk about the border crisis and the elitist hypocrites who support illegal immigration and are now complaining about the buses of migrants being sent to their cities. The Democrats need to own what they support, and they're finally getting a taste of their own medicine. Click here to watch the video.
Talking About Bidenflation, the Texas Economy, & More
I joined Univision 23 DFW a few weeks ago, where I spoke with Andrea Rega about everything from Bidenflation—to the thriving Texas economy—to electing people who stand for law and order. In case you missed it, you can watch the clip here.
Proudly Endorsed by All 14 Returning Republican Senators
I was proud to receive the endorsement of 34-year veteran Senator Eddie Lucio, Jr., D-Brownsville, often called the "conscience of the Texas Senate." Now, I am honored to have the endorsement of every returning Texas Republican State Senator.
Delivering the Keynote at the Council for National Policy Dinner
This weekend, I had several major speeches in Dallas and Houston. On Friday, I was honored to deliver the keynote at the Council for National Policy, a conservative Christian organization. Over 500 people turned out from all across America for the 3-day conference.
Speaking at My Church, Second Baptist, in Houston
On Sunday night, I spoke to about 700 members of my church, Second Baptist, in Houston. I joined Dr. Ed Young (in photo) to speak to hundreds of church deacons and their families. I have been a member at Second for almost 30 years.
#PatrickBusTour Giveaway: Enter to Win a Campaign Gift Bag!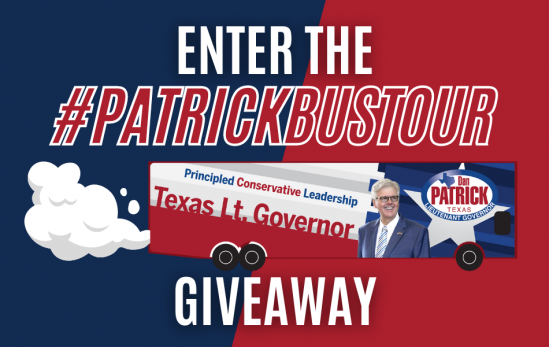 If you see me in your town, take a picture of my campaign bus using the hashtag #PatrickBusTour on social media (Facebook, Twitter, Instagram) and tag @DanPatrick to be entered to win a campaign gift bag! Keep a lookout for the bus – I hope to see you out on the road.
Thank you all for your support and for everything you do to keep Texas red. May God bless you and your family, and may He continue to bless the greatest state of all—Texas.
Sincerely,
Dan Patrick
Lieutenant Governor of Texas