The Countdown to Election Day Has Officially Begun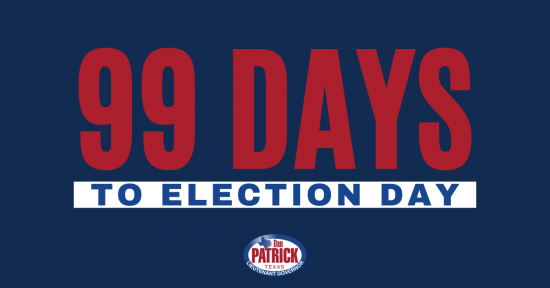 The Lone Star State is a global economic leader because of our conservative Texas values. People from California and other liberal states are flocking here in droves because of our job opportunities, low taxes, and thriving communities. Texas is a shining example of the American dream, and we must fight to keep it that way. We must MAKE SURE we keep Texas red.
We're only 99 days out from Election Day and the stakes could not be higher. Here are some things to keep in mind leading up to November 8:
★ Confirm your voter registration. The last day to register to vote is Tuesday, October 11.

★ Know when and where to vote. Early voting runs from Monday, October 24 – Friday, November 4. Election Day is Tuesday, November 8.

★ Find your polling place and make a plan to vote during early voting or on Election Day.

★ Bring a friend or family member, head to the polls, and vote to KEEP TEXAS RED!
I am confident that together, we will keep Texas one of the greatest states to live, work, and raise a family! For more information, you can visit www.votetexas.gov.
No Longer the Happiest Place on Earth
Disney's latest attempt to please the "woke" crowd has hit another low. Now, they are replacing the "fairy godmother" role with a gender-neutral "apprentice" title at the theme parks.
Just a few weeks ago, they also announced they will no longer address anyone with the greeting "boys and girls" and "ladies and gentlemen" at their parks. This crazy "woke" radical agenda is pushed by a few, but rejected by almost everyone in America, across all political spectrums.
Like so many, I have been a fan of Disney my entire life. That all changed once they started promoting radical leftist ideas to indoctrinate my grandkids and your children and grandchildren on the issue of sexuality — turning what once was a fun Disney experience into a leftist anti-family political agenda.
Disney is sacrificing their millions of fans for a small minority of woke leftist radicals that have taken over key positions in the company and on the board.
Disney is depriving children, parents, and grandparents of the magic that once inhabited the theme parks and movies. What was once the "happiest place on earth" has now become a platform for the liberal indoctrination of our children. You now have to screen a Disney film before letting your kids see it. That's sad.
We have to push back on Disney. Their stock is down by about 50% from a year ago.
Smuggling Migrants at the Border Now a Billion-Dollar Business
With demand for smugglers on the rise, organized crime has moved in, with cruel and violent results. When it comes to the border crisis, and almost everything else for that matter, the Biden administration has failed at every turn.
Thank you all for your support and for everything you do to keep Texas red. May God bless you and your family, and may He continue to bless the greatest state of all—Texas.
Sincerely,
Dan Patrick
Lieutenant Governor of Texas