I am proud of the work done by the Texas Senate during the past four legislative sessions. We have continued to move boldly to ensure voter integrity, making it easier to vote and harder to cheat, to protect life, support the Second Amendment, invest more money in border security than any lieutenant governor in history, continue to increase teacher pay, provide a 13th check for retired teachers for the second time, protect the rights of students and parents in education, ban the teaching of Critical Race Theory, and expand access to healthcare.
As the Biden, Pelosi, Schumer axis sets its sights on Texas, I renew my commitment to the people of Texas to fight to the end. I look forward to the 2022 elections, traveling the state, and sharing everything great about Texas with my fellow citizens.
2021 was truly one for the record books. CLICK HERE for key moments and highlights from this past year.
I wish all of you many blessings in the months ahead.
The Vaccine Should be a Personal Choice…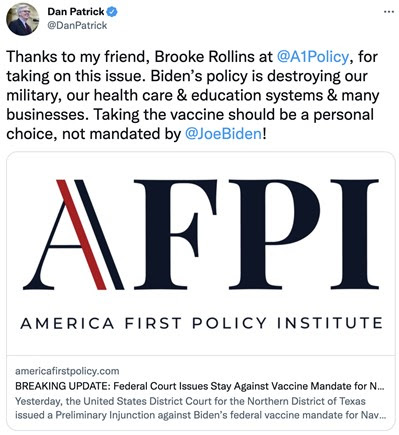 The vaccine should be a personal choice…not mandated by Joe Biden.
In Case You Missed It
Before Christmas, I spoke about President Joe Biden-Scrooge trying to ruin the holiday season and how Americans will celebrate Christmas no matter what! In case you missed it, watch my interview with Tucker Carlson here.
Popping Up Across the Nation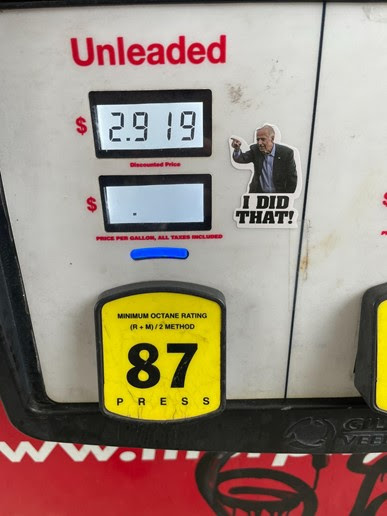 Spotted at a gas station over the holidays…
Thanks for the Support
I am proud to have the support of the Independent Insurance Agents of Texas and the Texas Land and Title Association Political Action Committee!
Stay tuned for more endorsements in the coming weeks.
May God bless you and your family, and may He continue to bless the greatest state of all—Texas.
Sincerely,
Dan Patrick
Lieutenant Governor of Texas