On my bus tour, I try to visit 8-10 cities a day, which can sometimes lead to a 14-hour work day. As I travel across this great state, I come across locations and people who deserve a longer video that my team and I call "treasures." These Texas Treasure videos highlight the extra special stops on my tour. Here is Treasure #1 from Belton, Texas, featuring the baseball team at the University of Mary Hardin-Baylor. I hope you enjoy!
I enjoyed giving these outstanding young men some lessons on leadership…I told them that they should dream big and be willing to take a chance at times in life.
Afterward, I took to the field for some infield ground balls at second and third, as well as some pitching. It's been 50 years since I last pitched from the mound but I have to say, I still brought the heat – excuse me – heating pad. UMHB is a great school and these young men are great leaders on and off the field.
#PatrickBusTour Giveaway: Enter to Win a Campaign Gift Bag!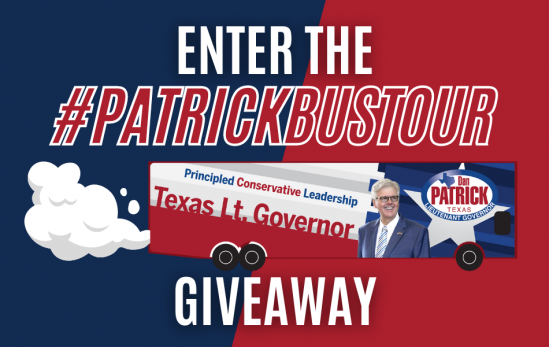 If you see me in your town, take a picture of my campaign bus using the hashtag #PatrickBusTour on social media (Facebook, Twitter, Instagram) and tag @DanPatrick to be entered to win a campaign gift bag! Keep a lookout for the bus – I hope to see you out on the road.
Thank you all for your support and for everything you do to keep Texas red. May God bless you and your family, and may He continue to bless the greatest state of all—Texas.
Sincerely,
Dan Patrick
Lieutenant Governor of Texas