I am traveling across Texas to recognize, galvanize, and mobilize rural Texans across the state to vote RED! I kicked off Wednesday morning at the Hotel Settles Grill in Big Spring, where I had breakfast with future Senator Kevin Sparks, and others. Hotel Settles is historic and greets guests with true Texas hospitality!
After breakfast, we made our way to Andrews, Texas to tour The Kirby Company manufacturing facility. Jim Kirby created the first Kirby vacuum cleaner in 1906. They are 100 percent American-made. It was great to get a closer look at their production process and meet some of their fantastic employees, too.
Following the tour, I got a Texas-sized welcome from the wonderful folks at The Legendary Barn Door in Odessa. You can always tell you're in West Texas when the crowd cheers "yee-haw" after reciting the Texas pledge!
The woman pictured in the bottom left photo below asked for a picture but had an injured foot, so I got down on a knee for the photo op. When I did, she jokingly accepted "my proposal" – and I said, "I now pronounce you constituent and voter!"
After lunch, we visited the Permian Basin Petroleum Museum for a press conference.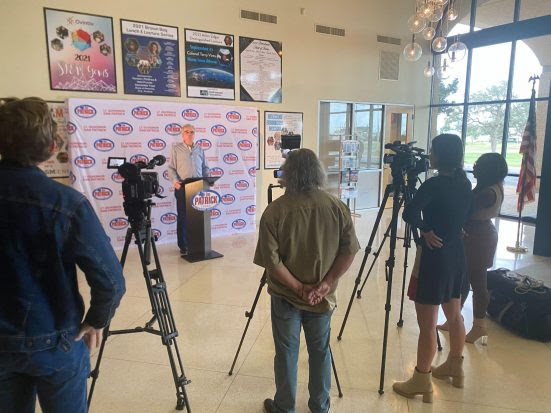 Next, we stopped in Wink to explore the Roy Orbison Museum. Roy Orbison is my favorite musician and the proprietor let me try on his famous glasses — a memory I will never forget.
We stopped for dinner at Poor Daddy's Smokehouse BBQ in Kermit for a meet and greet with the Winkler Co. GOP. It was another fantastic week out on the road!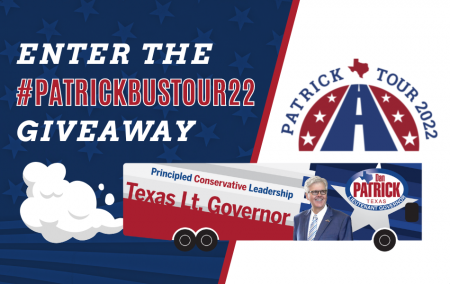 If you see me in your town, take a picture of my campaign bus using the hashtag #PatrickBusTour22 on social media (Facebook, Twitter, Instagram) and tag @DanPatrick to be entered to win a campaign gift bag and a private BBQ lunch with Jan and me! Keep a lookout for the bus – I hope to see you out on the road!
Thank you all for your support and for everything you do to keep Texas red. May God bless you and your family, and may He continue to bless the greatest state of all—Texas.
Sincerely,
Dan Patrick
Lieutenant Governor of Texas