I started day three of my 131-city bus tour across Texas at a 'rockin' coffee shop in Navasota. As an avid musician, it was great to stop at Classic Rock Coffee & Kitchen for breakfast and to mobilize local voters to get out this November and vote red up and down the ballot.
It was great to see a group of young conservatives while I was speaking, they are our future and it is always nice to meet young Republicans who wish to keep this country on the right track.
On my travels, I plan to stop at Texas businesses across the state. Yesterday, I stopped at Sanderson Farms in Bryan, Texas. Their plant processes 300 chickens a minute, that's 1.3 million birds a week! It was truly a site to see. They are working hard to not only feed Texans, but the entire nation.
For lunch, I traveled to Marlin and met up with Senator Birdwell to speak with local folks. I love a Texas diner, the memorabilia on the walls reminded me of the westerns of my childhood.
Later, I traveled to the local middle school to congratulate the administration on their B rating. Just two years ago, Marlin ISD had an F rating and under Superintendent Henson and the entire school district staff, with old fashioned hard-work and requiring students to attend classes on campus, they now have a B rating.
I am a huge fan of old movies so it was only fitting to hold one of my re-election press conferences at the historic Hippodrome Theater in Waco. My goal is to recognize, galvanize, and mobilize rural Texans to vote for not only me, but all conservatives in November.
Late afternoon, I headed over to Temple to visit the McLane Distribution Center which buys, sells and delivers more than 50,000 different products to over 100,000 locations across the U.S. I enjoyed meeting everyone around the plant and seeing how everything was run.
Next stop was a delicious dinner in Gatesville at a local favorite. Junction on Route 36 was a great time, the owner is a true Elvis lover and his memorabilia was displayed across the restaurant.
I ended the night at the Tegeler Chevrolet Buick Dealership in Goldthwaite to get the community energized for election season. Conservative policies ensure the Lone Star State remains strong and as we know, the world needs a strong America and America needs a strong Texas!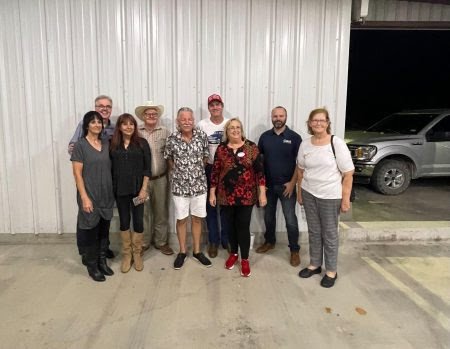 If you see me in your town, take a picture of my campaign bus using the hashtag #PatrickBusTour22 on social media (Facebook, Twitter, Instagram) and tag @DanPatrick to be entered to win a campaign gift bag and a private BBQ lunch with Jan and me! Keep a lookout for the bus – I hope to see you out on the road.
Thank you all for your support and for everything you do to keep Texas red. May God bless you and your family, and may He continue to bless the greatest state of all—Texas.
Sincerely,
Dan Patrick
Lieutenant Governor of Texas