Celebration with President Trump
Recently Pete Flores, Republican candidate for SD 24, and Dawn Buckingham, current SD 24 Senator and now a candidate for Land Commissioner, and I had dinner with President Trump to celebrate their run-off wins.
The President and I were 18-0 on our endorsed candidates. He kidded me about that at his most recent speech in Austin. Click here to see the video.
All School District Law Enforcement Officers Need a Bulletproof Shield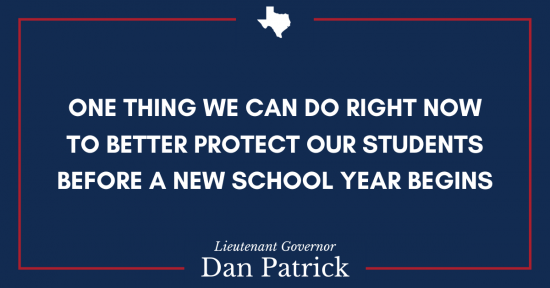 In the coming weeks and months, there will be many recommendations to prevent school shootings in the future. Last week, I announced there is one thing we must do and can begin to do right now without waiting until the 88th Legislative Session in 2023. In case you missed it, you can read my official statement here.
The Senate Special Committee to Protect All Texans
Also last week, I announced the forming of the Senate Special Committee to Protect All Texans. Here is my official statement.
Woke Corporate Policies are Being Forced on Companies in Order to Get Funding
Here is just one of the ways the left is trying to take over our culture.
Many of the "woke" policies we see in corporations today are driven by major lending institutions who make the companies follow "woke" guidelines to get their loan approved. In short, liberal left-leaning lending fund managers are controlling many companies' policies. Do as we say or you don't get your money.
Several months ago I discovered some of our Texas pension funds were casting votes on behalf of "woke" company policies at the request of the financial institutions that handle our pension funds. I am putting a stop to that. Our pension funds have no business supporting "woke" policies at the request of liberal financial firms that are contrary to the best interests of Texas. The Wall Street Journal ran an article on this. Here is an excerpt.
The Market Can Curtail Woke Fund Managers
Sponsors of the Index Act have identified a real problem. Their solution won't be effective.
Certain states have already regained voting power from the big three, yet early evidence suggests they have performed poorly on voting in accord with their citizens' wishes. According to Insight ESG Energy, a governance watchdog that grades the fiduciary performance and energy literacy of fund managers, BlackRock, State Street and Vanguard earned grades of C-minus, C and C-plus, respectively, for their 2021 voting behavior. Pension funds in Georgia earned an A, but Florida, Texas and Idaho earned grades of D-minus, D and D, respectively.
That's in part because Florida and two large Texas pension funds last year joined the big three to elect three dissident directors to Exxon Mobil's board to implement a more aggressive climate-change strategy, after which Exxon Mobil reduced its oil-production targets through 2025 from its earlier forecasts. One of the Texas pension funds also voted for shareholder resolutions requiring banks to restrict financing to new fossil-fuel projects. As Texas' democratically elected Lt. Gov. Dan Patrick has observed, it strains credulity to believe that the votes accurately represent the intentions of Texans and Floridians whose money is invested in these pension funds.
For those who want to read the whole article, you can read it here.
May God bless you and your family, and may He continue to bless the greatest state of all — Texas.
Sincerely,
Dan Patrick
Lieutenant Governor of Texas