EARLY VOTING IS HAPPENING NOW!
Early Voting for the Primary Election is Underway
Vote early NOW through Friday, February 25th
Say NO to Critical Race Theory
After the legislature voted to ban the teaching of Critical Race Theory this past year in our K-12 schools, I am shocked by the University of Texas at Austin's Faculty Council's 41-5 vote on a resolution in support of teaching Critical Race Theory. I am further outraged that the Faculty Council told the legislature and the UT Board of Regents that it is none of their business what they teach. Universities across Texas are being taken over by tenured, leftist professors, and it is high time that more oversight is provided.
I joined Tucker Carlson on his program Tuesday night to talk about it. Click here to watch the interview.
The Difference Between CRT and Teaching About Race
Those who support CRT accuse us of not wanting to teach the history of racism in our country. This is simply not true. Every generation needs to learn about that ugly part of our history, the horrors of slavery and segregation. But CRT does not do that, it teaches students that if you are born a person of color then you are a victim and if you are white then you are automatically born a racist and an oppressor. CRT teaches that everything in our country is based on racism, that it is not an abnormality, but the rule of law in everyday society. This racist ideology has no place in our children's curriculum!  We want students to be taught how to think critically. We want our kids to learn about America's underlying principles, that all men and women are created equal and that with faith and hard work, they can achieve the American Dream, not be indoctrinated with Marxist, left-wing propaganda.
I will not stand by and let looney Marxist UT professors poison the minds of young students with Critical Race Theory. We banned it in publicly funded K-12 schools and rest assured, we will ban it in publicly funded higher-ed.
Tenured professors should not be able to hide behind the phrase "academic freedom" and then proceed to poison the minds of the next generation. It's simple. If professors teach Critical Race Theory in their classrooms, they should lose tenure. I joined Tucker Carlson on his program Tuesday night to talk about it. Click here to watch the interview.
A Campaign Event with Donna Campbell
I was proud to join Sen. Donna Campbell, MD for an event in San Marcos last Thursday. Sen. Campbell is fiscally conservative and has a strong record of standing for limited government. With her help in the Texas Senate, we will continue delivering conservative legislation for Texans. Vote early for Donna Campbell!
Meeting with Sheriffs in Amarillo
I was also in Amarillo last week meeting with community leaders and sheriffs from various surrounding counties!
Tarrant County GOP Gala
I spoke at the Tarrant County Republican Party Grand Old Gala on Saturday. It was a packed house! I joined Texas Senate candidates Tan Parker and Phil King for a great night. I have given both of them my full and complete endorsement.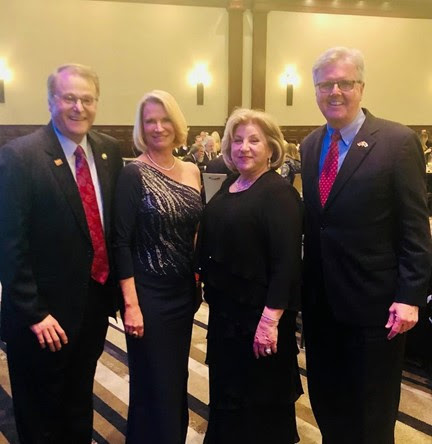 I also joined Senators Birdwell, Buckingham, and Nelson at the event. Dawn Buckingham is running for Texas Land Commissioner and she also has my full endorsement.
Texas First Rally with Morgan Luttrell

L to R: Marcus Luttrell, Gov. Rick Perry, Momma Luttrell, Morgan Luttrell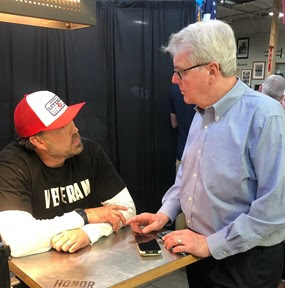 It was great to be in Conroe on Saturday at a campaign rally for Morgan Luttrell, who is running to replace the retiring Kevin Brady in Congress. He is the only congressional candidate I've endorsed because we need a tough and smart congressman to take on the radical left in DC! Hundreds turned out to show their support for Morgan and we need the same kind of turnout at the ballot box! Morgan Luttrell would be honored to have your vote.
Vote in the 2022 Republican Primary Election
Texans recognize the importance of this election in the face of the Biden Administration's open border policies, soaring inflation, and attack on our freedoms. We need to take a stand. Let's give the Democrats a taste of the inevitable Red Wave coming in November! Your vote for conservative values up and down the ballot will show the Left that their policies are not supported here in Texas. I hope I can count on your vote at the ballot box so I can continue standing for our principled conservative values as your Lieutenant Governor.
Early Voting is happening now through this Friday, February 25th. Election Day is Tuesday, March 1st.
If you need information about times and places in your area, click here. Get out and vote!
Watch My Latest Campaign Ad
My latest TV ad, focused on property taxes, hit media markets across Texas last week! Watch it here.
More Organizations Join Team Dan Patrick
For a full list of my endorsements, click here.
May God bless you and your family, and may He continue to bless the greatest state of all—Texas.
Sincerely,
Dan Patrick
Lieutenant Governor of Texas