Win a Campaign Gift Bag Using the #PatrickBusTour Hashtag!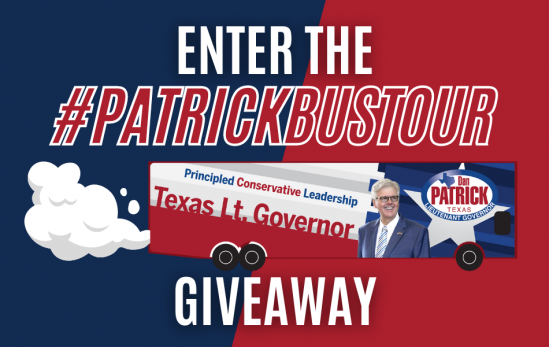 If you see me in your town, take a picture of my campaign bus using the hashtag #PatrickBusTour on social media (Facebook, Twitter, Instagram) and tag @DanPatrick to be entered to win a campaign gift bag! Keep a lookout for the bus – I hope to see you out on the road.
I am traveling across Texas to recognize, galvanize, and mobilize rural Texans across the state to vote RED! To start the day, I made a stop at the famous Bowie Knife in Bowie!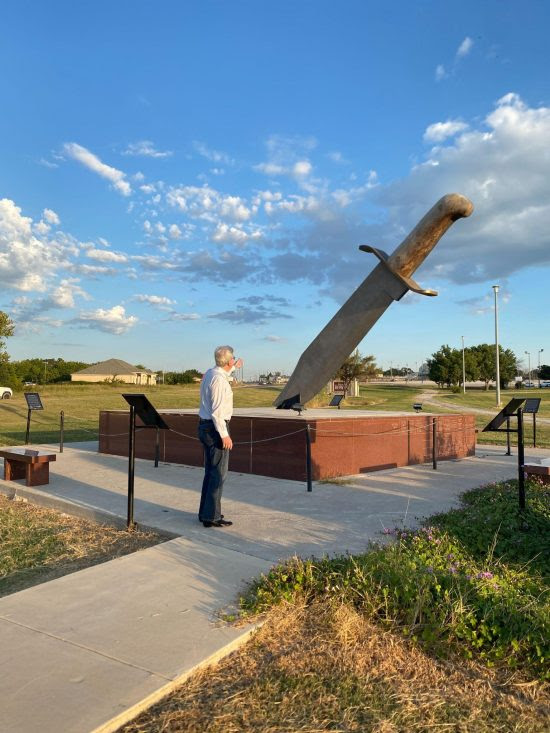 At breakfast, there was a full house and I was able to greet everyone and shake their hand. Everywhere I go, I encourage people to get to the polls in November and tell their friends, family, and neighbors how important it is for rural Texas to show up and vote red.
After breakfast in Bowie, we headed to Nocona to visit the Nokona Baseball Glove Factory. WOW was it cool! I had a Nokona glove growing up and it was so interesting to see how they are made, see the retro gloves from the early 1900s, and how they have changed their design over the years. I bought a new glove for myself, too!
Next, we headed to Henrietta to get out the vote and meet people within the Clay County Community.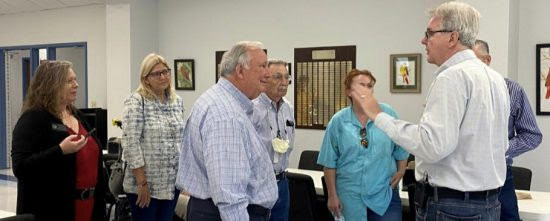 After, my team and I were hungry so we headed to The Branding Iron in Wichita Falls for a delicious barbeque lunch. I sat down with several other lunch-goers and happened to meet two of the local golf pros.
If I know there is a car museum within a 50-mile radius, I always try to visit. P's Crazy Car Museum had an exceptional collection, I was considering breaking my wife, Jan's, rule about one classic car at a time but I held back. If you're ever in Wichita Falls I highly recommend you give them a visit!
I then headed to my press conference at the Wichita Falls Museum of Arts at MSU Texas to speak to the local press and continue to spread my message and goal to recognize, galvanize, and mobilize rural Texans to vote in November and to vote RED!
As a huge cinema fan, I knew I had to stop at the Royal Theater in Archer City, the filming location for the 1971 film 'The Last Picture Show.' I soon got a craving for a banana split so I headed to the local Dairy Queen with the Sheriff and other law enforcement for a  quick bite.
The sheriff told us about the site of the retired historic D.S. Dudley Show in Mankins, so I had to take a look. From 1914 to the 1970s, this wild west circus show was the town's main industry.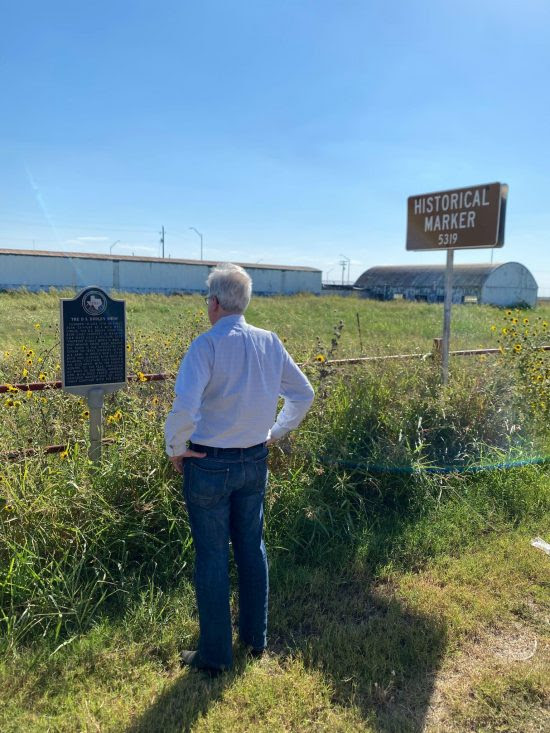 For my last dinner on this tour, we stopped at the Rock Inn in Seymour. I had the pleasure to meet some hardworking teenagers and although they can't vote yet, they assured me they would register to vote when they turn 18! Shelly, the restaurant baker, made a lemon meringue pie special for me, I said it was so good it would have made my grandmother proud.
My evening event with the conservative members of Seymour had a great turnout and I enjoyed speaking with them.
The last stop on this North Texas tour was in Olney, where I wrapped up my evening. Another great tour under wraps!
Please forward my emails or tell your friends and family to join my mailing list to follow along for more on my travels!
Thank you all for your support and for everything you do to keep Texas red. May God bless you and your family, and may He continue to bless the greatest state of all—Texas.
Sincerely,
Dan Patrick
Lieutenant Governor of Texas