Pictured with Jennifer Stoddard Hajdu – Dallas County Chair and Lane Sullivan – Events Vice-Chair of Dallas GOP
I joined the Park Cities Republican Women, alongside Sen. Bryan Hughes, House Rep. Morgan Meyer, and Senate candidate Rep. Tan Parker in Dallas on Tuesday night to speak at their meeting. These women are doing great work to ensure Texas stays RED and to get the message out to the community on the Republican party's conservative priorities. Thank you for having me!
Anti-Semitism Has No Place in our State
It was a somber start to the week with the horrible news of a hostage situation coming out of Colleyville at the Congregation Beth Israel over the weekend. I salute all of those in the combined law enforcement effort that saved the hostages. Their teamwork and bravery are another example of why all Americans should support law enforcement. They are always there for us in the most dangerous of times.
I am so thankful that all of the hostages made it out safely. Violence against worshippers of any faith will never be tolerated in Texas. Anti-semitism has no place in our state.
Important Election Dates
The March 1, 2022 Primary Election is just around the corner. Don't forget! The last day to register to vote is January 31st. Mark your calendars with these key election dates and make a plan to vote to Keep Texas Red!
More Endorsements…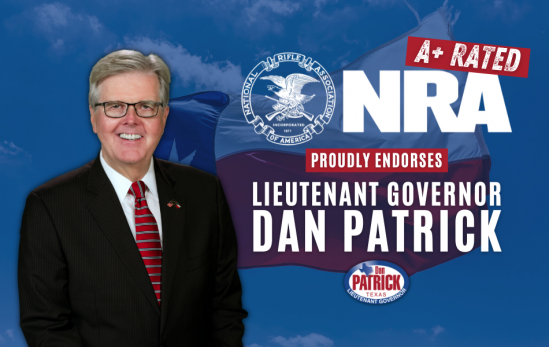 I am so proud to earn the endorsement and an "A+" rating from the National Rifle Association!
I have also been endorsed by the Texas Trucking Association, Texas State Rifle Association PAC, and the San Antonio Police Officers Association PAC in my bid for re-election.
For a full list of my endorsements, click here.
Patrick's Patriots Storefront
Now introducing…the Texans for Dan Patrick Storefront! Join the movement to KEEP TEXAS RED and order your merchandise today!
May God bless you and your family, and may He continue to bless the greatest state of all—Texas.
Sincerely,
Dan Patrick
Lieutenant Governor of Texas