Senate Committees Getting to Work
As the Texas Senate begins its work this session, the committee assignments I made will ensure we succeed in addressing the priorities of the people of Texas.
This is the strongest, best-equipped group of senators in Texas history. They are proven leaders with the expertise and experience needed to keep Texas moving in the right direction.
You can read my official statement here.
Discussing the Important Topics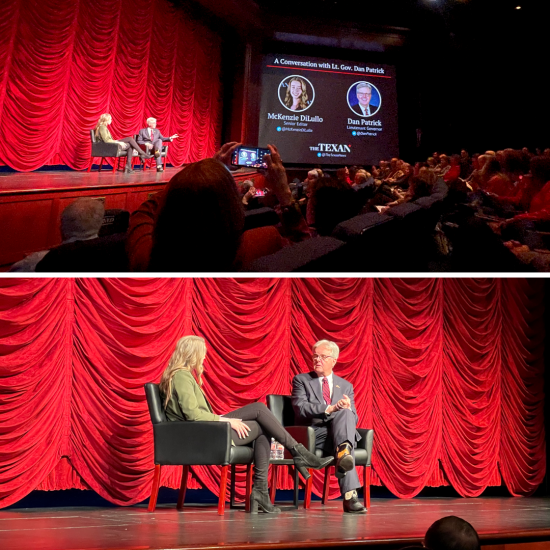 Last night, I joined McKenzie DiLullo of The Texan for a panel discussion about the 88th Legislative Session. We had a candid conversation about my conservative legislative priorities. Thanks to all of those who attended.
Miss Universe from Texas Studied Karate in Chuck Norris's School Program
Click here to read this wonderful and inspiring story about Texas's own R'Bonney Gabriel, who was recently crowned Miss Universe. She has made our state proud.
R'Bonney is also an alumna of Kickstart Kids, a martial arts character development program and non-profit organization, formed by my friend, Chuck Norris.
Over Thanksgiving, at the request of her middle school Kickstart Kids instructor, Miss Universe returned to meet with the 8th-grade girls of Quail Valley Middle School in Missouri City, Texas, where she encouraged them to follow their dreams.
Here are some photos from her visit…
A Hero We Will Never Forget
On Monday, I said goodbye to a dear friend of 30 years and a true American hero. Walter Cunningham was a physicist, a Marine pilot in Korea, and an astronaut. He is an American hero, father, husband, grandfather, and true friend.
Walter was a great man who bravely soared into the heavens — where he now resides. I will miss him greatly. It was a great honor to know him.
Thank you all for your support and everything you do to make Texas the greatest place on earth. May God bless you and your family, and may He continue to bless the greatest state of all—Texas.
Sincerely,
Dan Patrick
Lieutenant Governor of Texas