Waco Day at the Capitol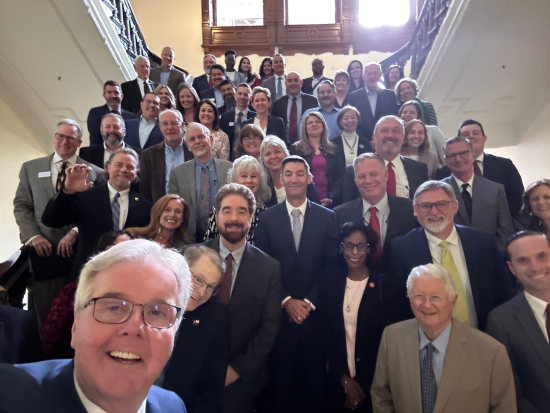 On Saturday, I traveled to Waco to speak at the Trump Rally. President Trump had called me a few weeks prior and asked me to pick a great Texas town. That place was Waco. Fittingly, I took the stage with the Ronnie Dunn song "How Far to Waco" playing. The following Tuesday, we celebrated Waco Day at the Capitol. Pictured above.
Texas Senate's Unanimous Passage of Senate Bill 22
In Texas, we believe in the rule of law.
As I traveled across rural Texas on my bus tour last year, I learned how undermanned and underfunded our sheriffs are. Counties are responsible for funding their jails and sheriff's departments. However, with increased crime across Texas as a result of Biden's open borders, it was clear rural Texas needed help. I decided we needed a plan to help them.
For the first time in Texas history, the state is assisting in funding law enforcement in rural counties. By passing Senate Bill 22, Assisting Rural Law Enforcement Funding – Increasing Pay and Needed Equipment, by Sen. Drew Springer, R-Muenster, the Texas Senate has reiterated its commitment to supporting the brave men and women of law enforcement. Here is my official statement.
Texas Senate's Passage of Senate Bill 15
Allowing men to play women's college sports, in denial of basic common sense, deprives women of the right to be the best in their sport.
We stopped boys from playing girls' sports in high school last session…it's now time to end it in college. The Texas Senate has taken yet another principled stand for the truth and passed Senate Bill 15, Protecting Women's College Sports, by Sen. Mayes Middleton, R-Galveston, to prohibit men from participating in women's college sports in Texas. Here is my official statement.
Texas Senate's Unanimous Passage of Senate Bill 10
Other than a parent, no person is more important to the development of a child than an educator.
Promises made, promises kept. I've talked to retired teachers across the state. They have asked for a cost-of-living-adjustment (COLA) for many years. I have directed two extra checks to retired teachers, but we were unable to establish the COLA for over 400,000 retired teachers because of the cost.
This year we have been blessed with a large surplus. One of my first priorities was to set aside money to address this issue. We are spending over $4.5 billion to finally establish the COLA. And we are giving our longest retired teachers aged 75 and older (about 185,000 educators) a check for $7,500 in addition to the COLA.
Texas retired educators have given so much for our students and for the future of Texas. It is only right that the state help give back to them. I could not be more proud that the entire Texas Senate has delivered on this important program for our retired teachers. I can't think of a better use of part of our surplus funds.
Here is my official statement following the Texas Senate's unanimous passage of Senate Bill 10, Supplemental Funding for Retired Educators, by Sen. Joan Huffman, R-Houston.
Legislative Updates with Chad Hasty
I spoke with my friend, Chad Hasty, on his program about the legislative session. You can listen to the interview here.
Special Guest at Project Red TX Reception
I joined Project Red TX for a reception in Austin on Wednesday night where I spoke about the historic measures we are taking this legislative session and the successes we have achieved here in Texas. Project Red TX focuses on growing our outreach to Hispanic voters. Thanks to all who attended!
A Conversation with Community Leaders
In my first session as Lt. Governor, I established citizen advisory boards to review and suggest legislation. I am constantly meeting and listening. Last week, leaders from across the state came to Austin to discuss key issues with me, my staff, and senators. It was a very productive meeting.
Meeting with Texas Automobile Dealers Association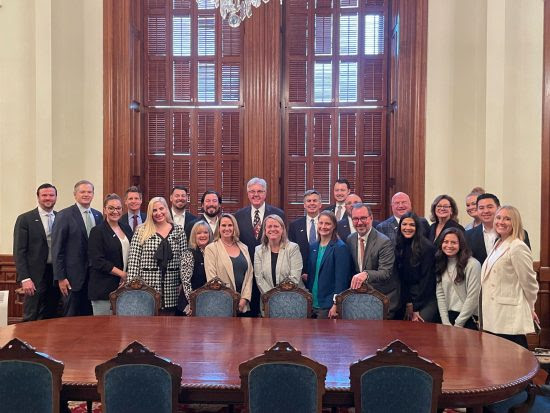 It was great meeting with the Texas Automobile Dealers Association and their Texas Dealer Academy last week. I am proud to support these hardworking Texans and their important role in our state's economy. Together, we will continue to promote growth and opportunity in the Lone Star State.
Thank you all for your support and everything you do to keep Texas red. May God bless you and your family, and may He continue to bless the greatest state of all—Texas.
Sincerely,
Dan Patrick
Lieutenant Governor of Texas