Since the October 7th attack on Israel by Hamas terrorists, Texans have been horrified and outraged at the brutal slaughter of innocent civilians of all ages. As a longtime supporter of Israel, I share that outrage.
I am equally appalled about what I am learning about the anti-Semitic activities among some in Texas who call themselves conservatives and Republicans.
Let me put this as clearly as I can — if you are anti-Semitic, if you admire Hitler and don't believe the Holocaust happened in Europe, if you hate Jews, you are NOT a Republican and you are not welcome in our party.
I am announcing my campaign is purchasing $3 million in bonds for Israel. Israel needs our help now in the fight against terrorism.
Click here to read my press release.
Texas Federation of Republican Women Convention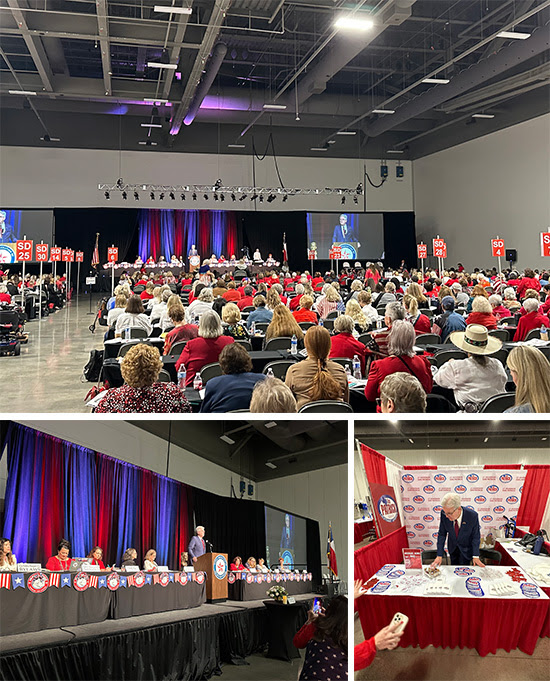 I was honored to speak at the Texas Federation of Republican Women's 34th Biennial Convention. Republican women win elections and we need them to continue passing conservative policies. We are so grateful for these wonderful women who are working hard to keep Texas red.
"In the Ring" at the Texas Realtors Conference
Each year, REALTORS from across Texas gather in Austin for the Texas Association of REALTORS Leadership Summit. I was proud to join them on Thursday and deliver the keynote address as their property tax cut champion this year.
Here I am pictured with Buster Douglas, who is famous for knocking out Mike Tyson in 1990. Watch this short video where he shows me some tips to improve my swing!
A Banquet with the Heart of Texas Foundation
In 2011, I visited the Louisiana State Penitentiary to see their inmate seminary program. At that time, it was the only one in the world. Senator Whitmire and I decided to create one here in Texas.
I had been invited by the warden who saw my movie The Heart of Texas: A True Texas Story on Faith and Forgiveness.
Since 2011, we have graduated 225 pastors, most who are serving 20 years to life. They now serve in 42 Texas prisons. We have another 200 men and 100 women taking seminary classes every day, working toward their 4-year degree.
I was honored to speak at their annual fundraising banquet in Bryan, Texas last week.
For more information on the program go to www.hotfcom.org.

A copy of my book, The Second Most Important Book You Will Ever Read, had apparently made its way through one of the prisons. I signed a copy.
We Will NOT Stop Until School Choice Becomes Law
A one-size-fits-all approach to education leaves many of our students behind, and parents deserve options other than just their local public school.
Texans across the political spectrum agree that families must have choice in education to ensure their student has the best chance of success. Thirty-one states, Puerto Rico, and Washington D.C., offer education savings accounts for their students, and Texas students should not be left behind. The Texas Senate has passed school choice bills in 2015, 2017, and 2023. Sadly, each time, the bill died in the Texas House. The time to pass school choice is NOW! In case you missed it, click here to read my official statement.
GO VOTE FOR PROP 4!
Texans, early voting in the November 7th Constitutional Amendment Election is underway.
Remember, the Constitutional Amendment for the $100,000 homestead exemption is on the ballot, and if approved, will be permanent and codified in the Texas Constitution.
Oct 23 – Nov 3: Early Voting
Nov 7: ELECTION DAY
This year, I refused to give up on providing you a $100,000 homestead exemption. The House, twice in two special sessions, did not pass it out as part of their property tax bill. With all 31 senators standing with me, we won the battle. The Senate was not going to take no for an answer.
Now, all you need to do is go vote early or on Election Day to put it in the Constitution and get your $100,000 homestead exemption ($110,000 for seniors). It's effective this year and, with compression, will lower the average homeowner's bill by $1,100 to $1,400 a year as long as you homestead your home. The average homeowner's school tax bill will go down by 40%.
To see what's on the ballot, click here. For more election info, visit www.votetexas.gov.
Thank you all for your support and everything you do to keep Texas red. May God bless you and your family, and may He continue to bless the greatest state of all—Texas.
Sincerely,
Dan Patrick
Lieutenant Governor of Texas