Aligning Our Education Policies
During the 88th Legislative Session, I plan to make the Senate Committee on Higher Education a sub-committee of the Senate Committee on Education. Now more than ever, we must examine education needs as a continuum, from the earliest grades through post-secondary education. The vast majority of jobs in Texas require students to continue their education beyond high school and there should be a seamless path throughout the educational experience. Read my full official statement here.
ICYMI: Conversations with Kent Hance on the 'Best Storyteller in Texas' Podcast
I continued my conversation with Kent Hance on his podcast this week. We talked about my time as a radio sportscaster, early days in the Texas Senate, experiences that shaped my strong Christian faith, and much, much more! You can click here to listen to Part 2 of the interview.
In case you missed it, you can click here to listen to Part 1.
League of Women Voters Honors Disgraced Harris County Elections Administrator
Election Day was an absolute disaster for Harris County. The vote count was delayed and then 5 days later Longoria found 10,000 uncounted votes, then quit. And now is being honored.
The League of Women Voters has lost all credibility honoring the disgraced Elections Administrator with the worst record in America!
"For the Valley!"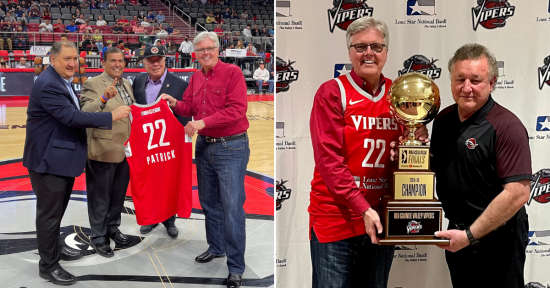 I had the pleasure to attend the McAllen Vipers game in the Valley over the weekend. It was a 4-overtime game! They are the Houston Rockets' G league team. Each NBA team has one. They have won the G League championship 3 times. Pictured above with Rio Grande Valley Senators Lucio and Hinojosa, along with the owner of the Vipers, Alonzo Cantu, holding up one of the championship trophies! It was a great night!
May God bless you and your family, and may He continue to bless the greatest state of all—Texas.
Sincerely,
Dan Patrick
Lieutenant Governor of Texas