I am traveling across Texas to recognize, galvanize, and mobilize rural Texans across the state to vote RED! I started day five of my 131-city bus tour across Texas at Kinfolks Grill in Sweetwater. I was happy to see several city officials and local leaders come out to visit and discuss ways to better energize voters for the November elections.
Next, I drove over to Anson to visit their courthouse and the town employees who work hard to keep their community running smoothly. We brought the rain with us and I know they were happy to see it!
Professor Floyd Holder IV from Western Texas College came out to hear me speak last night in Snyder with several of his students, and this morning a couple of high school seniors who are taking his course came to visit me while in Anson. They are taking dual credit courses to earn both high school and college credit. Professor Holder is an inspiration to these students.
I headed over to Albany for lunch and ate at one of the best hidden gems. The Beehive had one of the greatest meals I have ever had, and I don't say that lightly. The owner, Ali Esfandiary, has an amazing story and the staff was so attentive and helpful. Ali fled Iran and came to America. He joined our Air Force and became a citizen. He helped his daughter open two great restaurants. He loves and praises America every day. I was also able to speak to the local Kiwanis group while there and spread the message to get to the polls this fall. If ever near Albany, Texas or Abilene, you must eat at the Beehive… it's fabulous.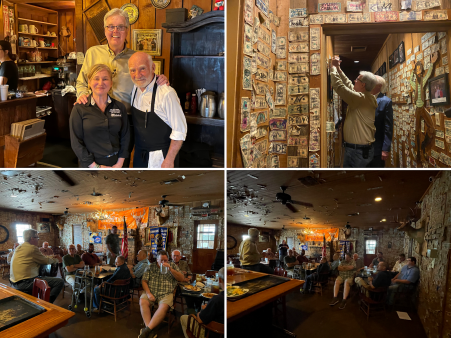 After lunch, I headed to Abilene to talk to the local news outlets about my 131-city bus tour, getting rural voters out to the polls, and the horrible policies the 'woke' democrats would implement if they were to win Texas.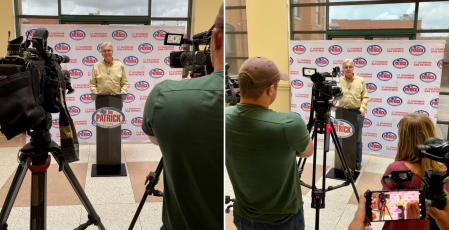 During my visit to Eastland, I took a tour of EBAA Iron and met some of the fine folks from the area. I enjoy touring manufacturing plants in Texas because I am a huge supporter of 'Made in the USA' and an even bigger supporter of 'Made in Texas.'
After that, I stopped for a wonderful dinner at Star Beau's. I had great conversation with Senator Birdwell, Comanche County Judge Stephanie Davis and Comanche Sheriff Chris Pounds. I also met a few patrons from the area.
We had an exceptional crowd at our final stop in Stephenville. I encouraged them to vote this November and to tell their friends, family, neighbors, everyone…to get out and VOTE RED!
If you see me in your town, take a picture of my campaign bus using the hashtag #PatrickBusTour22 on social media (Facebook, Twitter, Instagram) and tag @DanPatrick to be entered to win a campaign gift bag and a private BBQ lunch with Jan and me! Keep a lookout for the bus – I hope to see you out on the road.
Thank you all for your support and for everything you do to keep Texas red. May God bless you and your family, and may He continue to bless the greatest state of all—Texas.
Sincerely,
Dan Patrick
Lieutenant Governor of Texas