Failed Open Border Policies
I spoke with Shannon Bream on Fox News late Friday night about how Texans are FED UP with the failed open border policies of the Biden administration. You can watch the interview here.
Biden's Smuggling Business 
The news that the federal government — OUR federal government — is smuggling illegal immigrants to cities all across America is a total outrage. I joined Rick Roberts on his program last week to talk about this, our brave law enforcement officers, and more. In case you missed it, click here to listen.
A Campaign Event with Rep. Mayes Middleton
It was great being in League City last week to join Mayes Middleton's campaign rally! More than 200 people came out to show their support. These folks and so many others are energized and ready to KEEP TEXAS RED in 2022!
Campaign Event with SD 24 Candidate Pete Flores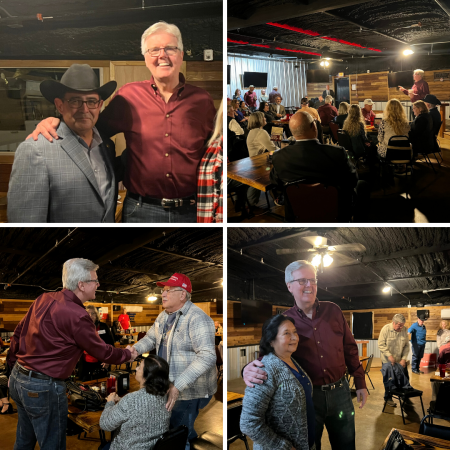 I was in the great city of Lampasas on Friday night for a campaign event with Pete Flores. Pete is a rock-ribbed conservative who will be a tremendous Senator for District 24. I was proud to join him and show my support for his campaign!
I also joined Pete on Tuesday night for an event in Belton. One thing was made clear: Texans are fired up and ready to fight back against the radical Biden agenda!

I had the pleasure to speak with an advocate with Texas Veterans for Marijuana. We spoke on our expansion of the compassionate use program in Texas for people with PTSD and cancer.
Keynote at HRBC Breakfast in Houston
In Houston last Thursday, I gave the keynote address at the Houston Region Business Coalition's January breakfast. I also had the privilege of meeting the new Ms. Texas 2022, Pamela Secades, at the event with 200 Houston business leaders!
Campaigning in Nacogdoches
I was honored to receive the Nacogdoches County Republican Party Statesman of the Year Award last night in Nacogdoches. I want to personally thank Chair Bradley Reynolds for hosting this great event. Over 400 people attended at the beautiful and historic Fredonia Hotel. Everyone I met treated me like a member of their family. That's East Texas hospitality.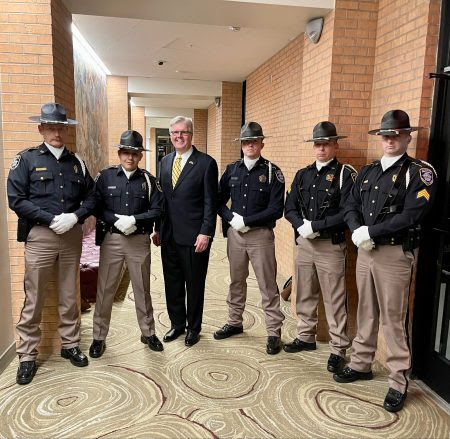 Here with the Nacogdoches County Sheriff's best. Their great Sheriff is Jason Bridges.
May God bless you and your family, and may He continue to bless the greatest state of all—Texas.
Sincerely,
Dan Patrick
Lieutenant Governor of Texas