Yesterday I kicked off my campaign bus tour! Fifty percent of the Republican vote comes from rural Texas. My goal is to recognize, galvanize, and mobilize rural Texans to keep the Lone Star State red. If you missed my press release announcing my bus tour, you can read it here.
It was an exciting and jam-packed day. From San Antonio to New Braunfels, to Boerne, and Pleasanton, I got to visit with tons of Texans — and I'm looking forward to meeting plenty more along the way.
You never know who you're going to meet and where…I meet supporters everywhere I go — including Barbara, who asked for a photo while filling up our big tank of gas…thanks for your support, Barbara!
While out and about yesterday, I stopped by the historic Comal County Courthouse. I appreciate Judge Waldrip showing me around. I love to tour our Texas courthouses…there's always something new to see and learn. A true Texas gem!
Next, I headed to Boerne for a Comal County GOP event. I stopped by their headquarters to pick up a few local grassroots leaders and then headed to Tusculum Brewing for the main event.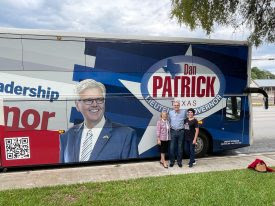 I ended the evening with a delicious dinner at a local favorite, Cibolo Creek Brewing Co. in Boerne.
I have now finished day one of my 131-city tour across the Lone Star State, and I am looking forward to seeing the rest of the state. If you see me in your town, take a picture of my campaign bus using the hashtag #PatrickBusTour22 on social media (Facebook, Twitter, Instagram) and tag @DanPatrick to be entered to win a campaign gift bag and a private BBQ lunch with me and Jan! Keep a lookout for the bus – I hope to see you out on the road!
There is a Fentanyl Crisis on the Border
Fentanyl and other deadly drugs are being smuggled into our country daily because of Biden's open borders. Yet, Biden continues to do what he does best: NOTHING. Here is the rest of my interview with Shannon Bream on Monday.
Thank you all for your support and for everything you do to keep Texas red. May God bless you and your family, and may He continue to bless the greatest state of all—Texas.
Sincerely,
Dan Patrick
Lieutenant Governor of Texas