Mon, Oct 24 – Fri, Nov 4: Early Voting
Tue, Nov 8: ELECTION DAY
The future of our country is on the ballot this November. It's going to take every single grassroots conservative doing their part to help us win big on November 8th and stop the radical left. This could be a record-setting turnout election. We will win if Republican voters turn out in big numbers. Please vote in this important election and vote red all the way down the ballot.
Thank you,
Dan
– Find your polling place.
– Make a plan.
– Bring a friend, family member, neighbor, or co-worker.
– Vote REPUBLICAN all the way down the ballot!
President Trump Visits Texas
Voters in Texas are Energized to Get Out and Vote!
President Trump visited South Texas over the weekend and I was proud to address the crowd at his rally. The rally was only planned a week before the event. Amazingly, 20-25,000 people attended even with only a few days of promotion. President Trump called me up on the stage with him to speak as well. Everyone in the crowd was fired up to keep Texas red and vote Republican up and down the ballot. As long as Texas is operating under conservative leadership, we can keep our communities safe and our economy strong. This is a crucial election and it is critical that every patriot turn up to the polls to KEEP TEXAS RED.
Grassroots Event with Senator Charles Perry
I was in Lubbock on Wednesday for a town hall forum with my friend, Senator Charles Perry. It was great to see so many people out for the event and discuss the issues that matter most to rural Texans.
Keynote at the 41st Annual Night to Honor Israel hosted by Cornerstone Church
After giving two sermons at Grace Church in the Woodlands Sunday morning, I traveled to San Antonio on Sunday night to join my longtime friend Pastor John Hagee as we both spoke at the 41st Annual Night to Honor Israel hosted by Cornerstone Church. Pastor Hagee began Christians United for Israel (CUFI), the largest pro-Israel organization in the United States and one of the leading Christian grassroots movements in the world with over 10 million members that speak as one voice on behalf of Israel.

Attending a meeting with the Prime Minister and Knesset in Israel
I am a longtime supporter of Israel and had the great honor to speak to leaders of their General Assembly (Knesset) several years ago and to meet with their Prime Minister.
Every Texan Deserves Access to High-Speed Internet Connectivity
Broadband is a very important issue for rural Texas.
I was honored to receive the 2022 Broadband Trailblazer Award from Texas Broadband Now for my commitment to ensuring every Texan has access to high-speed, reliable internet.
#PatrickBusTour Giveaway: Enter to Win a Campaign Gift Bag!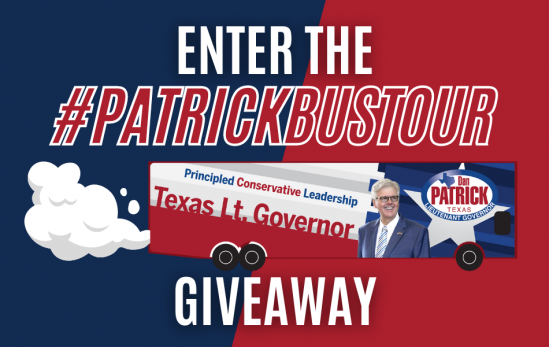 If you see me in your town, take a picture of my campaign bus using the hashtag #PatrickBusTour on social media (Facebook, Twitter, Instagram) and tag @DanPatrick to be entered to win a campaign gift bag! Keep a lookout for the bus – I hope to see you out on the road.
Thank you all for your support and for everything you do to keep Texas red. May God bless you and your family, and may He continue to bless the greatest state of all—Texas.
Sincerely,
Dan Patrick
Lieutenant Governor of Texas