Even when the bus motor isn't running, my motor never stops. I delivered four major speeches last week and now I'm back on the road! But first, here's last week's week in review…
Speaking at the Republican Club at Heritage Ranch Dinner in Fairview
I started my week in Collin County on Monday night for the Republican Club at Heritage Ranch meeting and dinner. It was a sell-out event! Pictured above with one of our great Texas Sheriffs, Jim Skinner, and with Senator Angela Paxton celebrating my friend Joan's birthday!
Concho Valley Republican Women Luncheon
On Thursday, I was in San Angelo, where I joined the Concho Valley Republican Women and Rep. Drew Darby and spoke at their luncheon.
Later, I stopped by Doc Sinclair's classic car garage. The corvettes are from 1965 and 1972. Pictured in the bottom right is a 1969 Ford Mach 1 Mustang. It was a very impressive collection.
Fall Benefit Luncheon for Texas Area Pastor Council
On Friday, I was in Houston for a luncheon with the Texas Area Pastor Council. The Council asked Jim McIngvale, better known as "Mattress Mack," to present me with the Michael Stevens' 2022 Citizenship Award. It was a great honor. Thank you to the Pastors Council.
This is Nick Caturano. He's a waiter at Disney World that took on Disney's woke policies and mandatory COVID vaccine mandates. He also spoke at the event. I, and so many others, admire his courage.
Texas Public Policy Foundation Victory Summit
Later that night, I headed over to the Lost Pines Resort just south of Austin, Texas for a Q&A session, moderated by Texas Public Policy Foundation CEO Greg Sindelar. Thanks to all of those who attended. We had some great and productive conversations.
Keynote at 5th Annual Bastrop GOP BBQ & Boots Fundraiser
On Saturday, I traveled to Bastrop where I gave the keynote at the 5th Annual Bastrop GOP BBQ & Boots Fundraiser. There was a huge turnout. That's John Wayne's vest I'm wearing…I had great fun telling some stories about it and letting some folks try on the vest, too!
Texas Declares Mexican Drug Cartels as Terrorist Organizations
I managed to squeeze in a quick interview with my friend, Rick Roberts, on Thursday afternoon. I joined his program to talk about Governor Abbott's order declaring Mexican drug cartels terrorists, which makes sense considering they kill as many people with their fentanyl smuggling. You can click here to listen to the interview.
#PatrickBusTour Giveaway: Enter to Win a Campaign Gift Bag!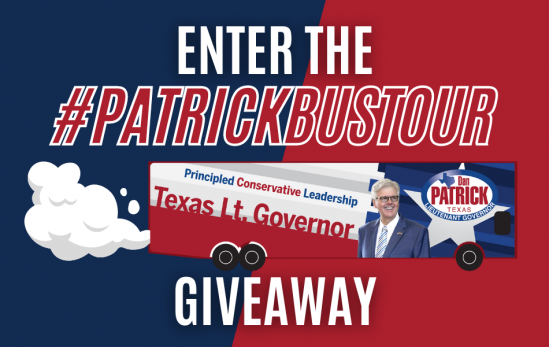 If you see me in your town, take a picture of my campaign bus using the hashtag #PatrickBusTour on social media (Facebook, Twitter, Instagram) and tag @DanPatrick to be entered to win a campaign gift bag! Keep a lookout for the bus – I hope to see you out on the road.
Thank you all for your support and for everything you do to keep Texas red. May God bless you and your family, and may He continue to bless the greatest state of all—Texas.
Sincerely,
Dan Patrick
Lieutenant Governor of Texas