This week, the bus tour goes to the Rio Grande Valley — where Hispanics are changing parties at a historic pace!
I started my day yesterday in the town of Freer, at the family-owned and operated Muy Grande. I popped in to fill up my bus tank with gas and I left my stamp on the place with an official "Dan Patrick" yard sign out front.
Then, we headed down the road to see the World's Largest Rattlesnake up close. It stands seven feet high and 14 feet long, constructed of concrete and steel. Freer is home to the Official Rattlesnake Roundup of Texas, it was very impresssssive.
Not that long ago seeing a Republican billboard in the RGV would have been a rare sight in a blue county. Not anymore. I spotted this billboard alongside the road and had to stop to take a picture of it. I agree wholeheartedly…if you want to save jobs and stop inflation, you've got to vote Republican!
To underscore how the Valley is quickly changing, yesterday, Democrats pulled out of a longtime held seat in a RGV Congressional Race. Read about it here.
Next, we stopped for lunch at the wonderful SuKasa in Hebbronville. We had a full house. Several years ago, many of the people I met yesterday were Democrats, but after their party turned into the radical woke left and abandoned them, they made the switch to the Republican Party. The party that values life, God, law and order, and secure borders.
After lunch, I had some extra time and was invited to take a look at this overflow detention center. This area, and Del Rio, have processed as many migrants as New York City, around 8,000, and the NYC Mayor who presides over eight million people wants to call in the National Guard.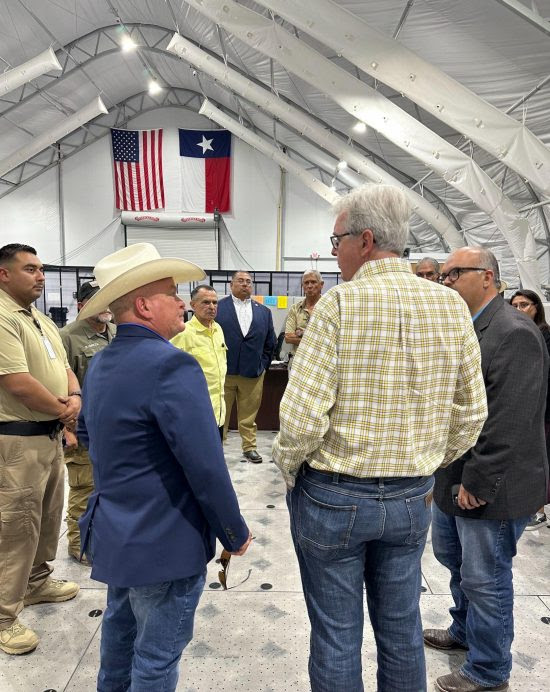 Ryan Guillen, the Texas House Member in that area, used to be a Democrat but after the mishandling of the border and radicalization of the left, has now become a Republican. Welcome to the right side!
Next, I headed over to Laredo to speak with local media and discuss the important issues the people in the Valley care about.
Later, I had a great fajita dinner at Costa Messa in McAllen with Senator Eddie Lucio. He is a 32-year member of the Texas Senate. I'm proud to have his endorsement.
Senator Lucio joined me at the Hidalgo County GOP headquarters afterward to speak with a large group of fired-up conservatives who don't want to see Texas turn into California! I am getting Texans energized across the state to get to the polls in November and keep Texas RED!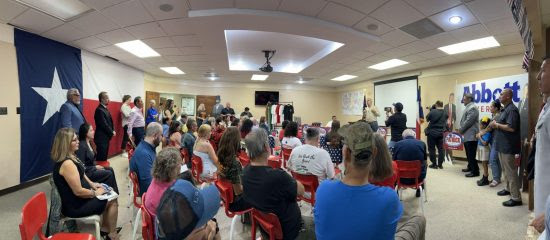 Win a Campaign Gift Bag Using the #PatrickBusTour Hashtag!
If you see me in your town, take a picture of my campaign bus using the hashtag #PatrickBusTour on social media (Facebook, Twitter, Instagram) and tag @DanPatrick to be entered to win a campaign gift bag! Keep a lookout for the bus – I hope to see you out on the road.
Please forward my emails or tell your friends and family to join my mailing list to follow along for more on my travels!
Thank you all for your support and for everything you do to keep Texas red. May God bless you and your family, and may He continue to bless the greatest state of all—Texas.
Sincerely,
Dan Patrick
Lieutenant Governor of Texas