I started Day Two of my 131-city bus tour across Texas in Pleasanton with Senator Pete Flores. We met with some local leaders at Plaza Tapatio Mexican Grill to eat some delicious breakfast tacos and mobilize locals to get out and vote RED this November. I also got to meet the owners of the restaurant! It was great fun.
I then headed back into Bexar County to speak at the 35th Annual Legal Seminar on Ad Valorem Taxation. I talked about property tax reform and the historic measures passed this past session and special session, including increasing the homestead exemption for every homeowner from $15,000 to $40,000, saving Texans thousands of dollars over the lifetime of their homes. I have worked hard to keep Texans' taxes low and our economy strong – I will never give up on that fight.
I ended my night in Kyle to visit with the Hays County GOP. I was joined by Senator Donna Campbell, Congressman Chip Roy, and former Senator Dawn Buckingham, who is running for Texas Land Commissioner. I met with several energized conservatives who are eager to get out and vote and spread the word across their community to keep Texas RED.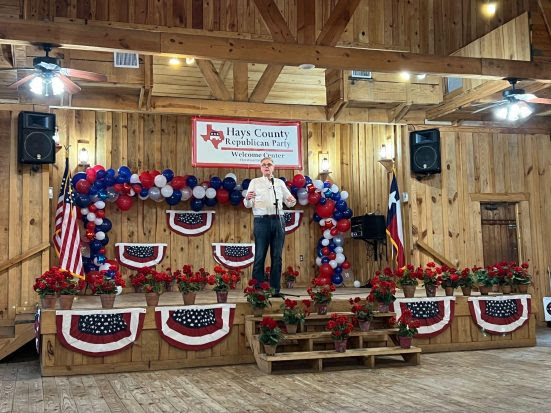 Sen. Donna Campbell represents Hays County and coined the phrase, "We have to get it right in Texas because there's not another Texas to move to." With her permission, I use that phrase all the time because it's true.
I got down on the floor to interview 4-year-old Lincoln who was helping the speakers at the event. I told him he had to help me up afterward and he did. What a sweet young man. This is who we're fighting for – the next generation.
Biden is Doing Nothing to Protect our Border
Biden is doing nothing to protect our border. He and other Democrats are pretending like an invasion is not happening at our southern border. Texas will not let that stand! We will continue to send buses of illegal immigrants to blue cities until Democrat governors and mayors speak up and tell their president that there is a CRISIS at our southern border. I joined Rob Schmitt on Newsmax earlier this week to talk about it. Click here to watch the interview.
This is some of my great staff who happened to drive by my bus on the way to a country concert near where I was speaking. I have the best team in the Capitol working for Texas.
If you see me in your town, take a picture of my campaign bus using the hashtag #PatrickBusTour22 on social media (Facebook, Twitter, Instagram) and tag @DanPatrick to be entered to win a campaign gift bag and a private BBQ lunch with Jan and me! Keep a lookout for the bus – I hope to see you out on the road.
Thank you all for your support and for everything you do to keep Texas red. May God bless you and your family, and may He continue to bless the greatest state of all—Texas.
Sincerely,
Dan Patrick
Lieutenant Governor of Texas