EARLY VOTING IS HAPPENING NOW!
Early Voting for the Primary Election is Underway
Vote early NOW through Friday, February 25th
Jan and I were in Cypress on Monday (with our newest of 7 grandchildren!) casting our ballot in the 2022 Republican Primary Election!
Don't forget…you can vote early now through February 25th. I encourage all of you to grab a friend or family member and head to the polls to KEEP TEXAS RED!
Click here to find your Early Voting location.
CRT Has No Place in Texas Schools
The Faculty Council at the University of Texas approved a nonbinding resolution Monday supporting the freedom to teach Critical Race Theory.
I will not stand by and let looney Marxist UT professors poison the minds of young students with Critical Race Theory. We banned it in publicly funded K-12 and rest assured, we will ban it in publicly funded higher ed. That's exactly why we created the Liberty Institute at UT.
Keeping Montgomery County RED
Over the past couple of weeks, I have been hosting events around the state for senators. There was a great turnout in Magnolia in Montgomery County last Wednesday to hear from Senators Lois Kolkhorst, Paul Bettencourt, Brandon Creighton, and myself. Representatives Cecil Bell Jr. and Steve Toth also joined us. Montgomery County is where President Trump held his record-setting rally a few weeks ago. It is one of the largest, if not the largest, red-voting counties in the country with a population of over 100,000!
Vote Phil King for Senate District 10
On Thursday, I traveled to Arlington and Fort Worth for a luncheon and dinner with Senate District 10 candidate, Rep. Phil King. I have known and worked with Phil for 14 years. His lengthy legislative experience, his background in law enforcement, and his strong leadership skills are what we need in the Texas Senate! I'm proud to endorse him.
Vote Tan Parker for Senate District 12
I continued my tour around Texas yesterday. I am trying to help elect seven strong conservative candidates who have primaries. I will need all seven in the Texas Senate with me.
We had a huge crowd in Flower Mound Tuesday night for Senate District 12 candidate Tan Parker in a get-out-the-vote rally for both of us. I have endorsed Tan. He will replace my great friend, Jane Nelson, who retired this year. If you live in that district please vote for Tan Parker!
Thank You, Pharmacists
Also while in Flower Mound on Tuesday, I stopped to visit some of our great pharmacists and their association leaders. They have been on the front lines throughout COVID. Thanks to all of the pharmacists in Texas for all you do.
Speaking at the Gillespie County Lincoln Reagan Dinner
I was honored to speak at Gillespie County's first-ever Lincoln Reagan Dinner in Fredericksburg on Friday night. Fun fact: Gillespie County voted 79% for Trump in 2020!
"C" Club Event in Houston
I stopped in Houston while out on the campaign trail to speak at an event for the "C" Club. Thanks for having me!
One of the Best Car Collections I've Ever Seen
It was great being in Dallas with Sam Pack who has one of the best car collections I've ever seen!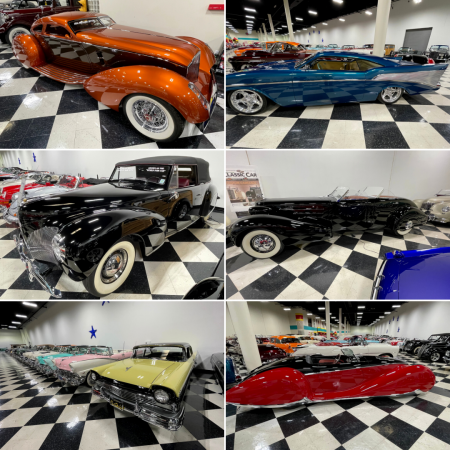 The big black convertible with the black top was Babe Ruth's car, alongside the many other one of a kind cars pictured here. Truly amazing to see!
Catching Up with Chad Hasty
I caught up with Chad Hasty on his program Monday afternoon. In case you missed it, click here to listen.
Great News: Babies' Lives Are Being Saved!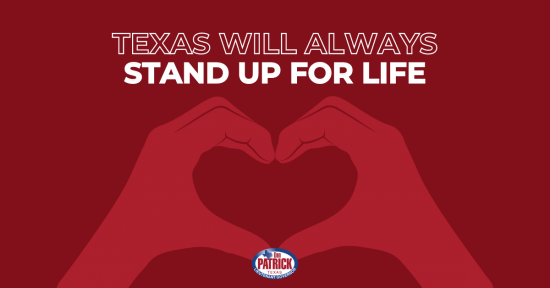 Since I have been Lt. Governor, the Texas Senate has passed the strongest pro-life legislation in history. This past session, I prioritized legislation called the Heartbeat Bill to ban abortion after a heartbeat is detected. And babies' lives are being saved because of it! New data shows that abortions in Texas fell by nearly 60% after the Heartbill Bill took effect!
This bill is a victory for life and demonstrates our commitment to protecting Texas' most vulnerable. Texans are pro-life and proud of it.
New Week, New Endorsements!
Thank you, Texas Homeschool Coalition and Texas Patriots PAC, for endorsing my campaign!
For a full list of my endorsements, click here.
May God bless you and your family, and may He continue to bless the greatest state of all—Texas.
Sincerely,
Dan Patrick
Lieutenant Governor of Texas