President Trump is Coming to Waco!
President Trump will be holding a rally in Waco this Saturday! RSVP here! I know it will be a huge crowd with enthusiastic supporters ready to greet President Trump and show him that Texas is ready for a RED White House.
The Texas Senate has unanimously passed three historic property tax bills
The Texas Senate has unanimously passed three historic property tax bills – Senate Bill 3, Increasing the Homestead Exemption to $70,000, by Sen. Paul Bettencourt, R-Houston, Senate Bill 4, Adding Additional Property Tax Relief, by Sen. Paul Bettencourt, and Senate Bill 5, Increasing the Business Personal Property Tax Exemption by Sen. Tan Parker, R-Flower Mound.
This is a great testament to Republicans and Democrats working together for all of their constituents. Here's my official statement.
Working Diligently to Reduce Property Taxes in Texas
On Monday, I spoke with my friend, Rick Roberts, on his radio show about what the Texas Senate is doing to reduce property taxes here in the Lone Star State. You can click here to listen.
BIG NEWS… Court rules for ratepayers
Big news for Texas consumers from the 3rd Court of Appeals.
During Winter Storm Uri in February 2021, when temperatures dropped and the lights went out, the price of electricity went through the roof. As a result, we saw some of the highest prices for electricity ever.
I, along with the Texas Senate in a bipartisan effort, fought to get the high prices rolled back. We believed then that prices should not have risen to the highest level and should not have stayed in at the highest level for the entire storm. Sadly, the Texas House did not support our effort.
The recent ruling from the 3rd Court of Appeals supports our position. We were right. Texas electric utility customers got the short end of the stick.
No doubt the court case isn't over as appeals could still be filed, but on behalf of Texas electric utility customers, I couldn't be more pleased.
AG Ken Paxton Agrees School Choice is Constitutional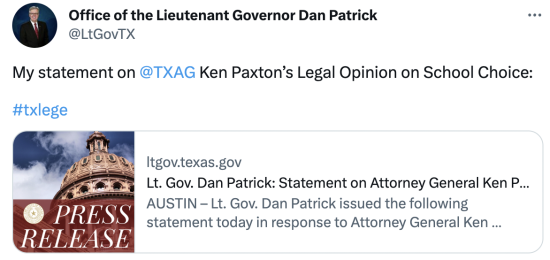 Click here for the full statement. 
Texas Values Faith & Family Day
Last Monday, I spoke with a large crowd supporting Texas Values for their Faith and Family Day at the Capitol. This session, we are dedicated to saving women's sports in Texas universities. A special thanks to NCAA swimmer and advocate Riley Gaines for protecting women's sports and for speaking on this important issue.
Speaking with Texas Business Leaders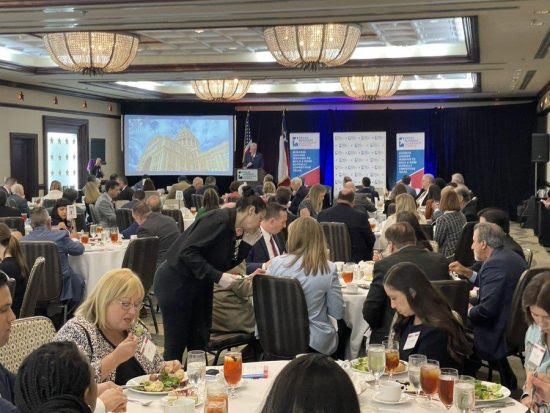 The week before last, I spoke with a room full of Texas business leaders to discuss the Texas economy, our budget, and my legislative priorities. Our thriving economy continues to grow and move forward. After all, the world depends on a strong America, and America depends on a strong Texas.
Thank you all for your support and everything you do to keep Texas red. May God bless you and your family, and may He continue to bless the greatest state of all—Texas.
Sincerely,
Dan Patrick
Lieutenant Governor of Texas