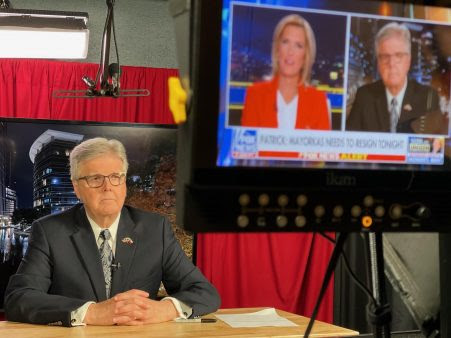 The blood of a mother and daughter are on the hands of President Biden and VP Kamala Harris who refuse to secure the border.
Both were killed on Saturday morning when a smuggler with 7 illegal immigrants in his SUV slammed into their car killing the innocent mother and daughter while the smuggler evaded Border Patrol.
Two women are now dead because of Biden's outrageous policies. We must build the wall and secure the border now.
I joined Laura Ingraham on her program Monday night to talk about this tragic event and call on Mayorkas to resign immediately. You can click here to watch the interview.
A Pro-Life Win for Texas!
Last Friday, the United States Supreme Court allowed the Heartbeat Bill, which bans abortions once a heartbeat is detected, to remain in effect! I spoke about this huge victory with Martha MacCallum. In case you missed it, click here to watch the interview.
Texas is a solidly pro-life state, and I will never stop fighting to protect innocent life from the radical, abortionist left.
Be An Angel Bag Decorating + Ways to Give Back
It was great to be in Houston on Tuesday to join some folks from "Be An Angel" in decorating bags to give to children in need.
As some of you know, Be An Angel is an organization that is very close to my heart. I have been on the board since 1988. I am proud that over the last 32 years, my radio station listeners and other friends have given more than 20 million dollars to help thousands of children with disabilities. As the holiday season draws closer, I encourage all of you to find ways to give back. To learn more about their mission and find out ways to give, please visit: beanangel.org/ways-to-give
Proud to Endorse Mayes Middleton for Senate District 11
I've known Mayes Middleton for more than a decade. He has always proven himself to be a conservative stalwart and liberty-minded individual. I am proud to endorse him in the race for Senate District 11. Click here to read the press release.
Check Out My Latest Endorsements!
Thank you Independent Bankers Association, Department of Public Safety Officers Association, and Houston Region Business Coalition for endorsing my campaign!
Stay tuned for more endorsements in the coming weeks.
Last Call: Get Your 'Patriot' Christmas T-Shirt TODAY!
Show your support for your state and country with our 'Patriot' Christmas t-shirt – available now for a limited time! The clock is ticking…get yours before it's too late!
May God bless you and your family, and may He continue to bless the greatest state of all—Texas.
Sincerely,
Dan Patrick
Lieutenant Governor of Texas