The Blame is on Biden
Last week, Border Patrol agents opened a gate that had previously been locked by members of the Texas National Guard to let illegal immigrants through.
If I had been there that day, I would have asked to see authorization from the homeowner that they agreed to open that gate. Otherwise, I would have said we're not opening it. It is private property!
But let me be clear: I don't blame Border Patrol one bit. They are working with Texas every day. They have an incredibly difficult job — one that is getting tougher by the day — and their hands are completely tied because of Biden's ridiculous policies. BIDEN IS TO BLAME, not Border Patrol.
I joined Shannon Bream on Fox News late Monday night to talk about this and more. You can click here to watch a portion of that interview.
Comptroller Confirms Harris County Commissioners Court Defunding Law Enforcement
During the last session, passing legislation that stopped cities and counties from defunding the police was one of my top priorities. Senate Bill 23 set forth penalties against local governments who defund police. Harris County Commissioners Court, controlled by liberal Democrats, has been undercutting both Republican and Democrat Constable offices' ability to operate and protect the citizens of Harris County by playing games with their budgets.
The Constables filed a complaint with the state as required by the legislation, and yesterday Comptroller Glenn Hegar issued a letter siding with the Constables.
Even Democrat District Attorney Kim Ogg recently complained to the court that they were undercutting her ability to hire prosecutors to prosecute criminals.
Harris County Judge Lina Hidalgo and the Democrat Commissioners' woke soft policies on law enforcement, and their support of judges who let criminals walk free, have caused a huge spike in crime in Harris County.
The Comptroller's letter is here.
Even the Democrat Sheriff Believes They Need More Funding
The Democrat Sheriff is under a lot of political pressure to not say "defund" but knows they need more funding, but Comptroller Hegar made it very clear. Harris County is defunding police. We need new leadership in Harris County on November 8.
"Team Biden's proposed new Title IX regulations make it clear: They're coming for your children."
Biden continues to undermine parents' rights. They're attempting to indoctrinate our kids with their radical woke agenda that's destroying our society.
We must win Congress back in November and the White House in 2024. Parental rights in education are essential. I led the fight against Obama back in 2016 and continue to fight today.
Is this Legal?!
Have you seen this? White Minneapolis teachers could face race-based layoffs, an agreement designed to "solve for past discrimination," according to the Minneapolis public school district.
This is an absolute outrage, not to mention completely unconstitutional.
Speaking to the Lone Star Republican Club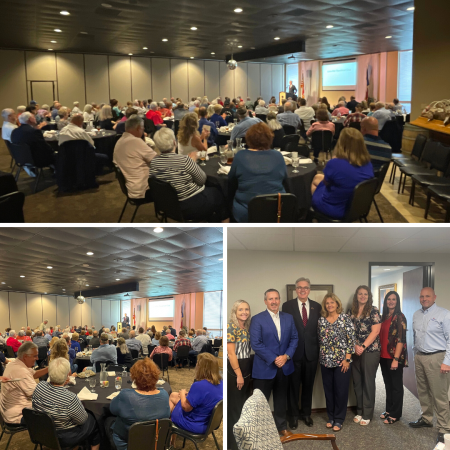 I was in Athens on Thursday, where I had the honor of giving the keynote at the Henderson County Republican Party Dinner. Thanks to those who attended! Earlier in the day, I visited a car dealership in Gun Barrel City, Texas and met Ghost. I just love dogs and Ghost is a great one.
P.S., stay tuned…I have a BIG campaign announcement coming soon!
Thank you all for your support and for everything you do to keep Texas red. May God bless you and your family, and may He continue to bless the greatest state of all—Texas.
Sincerely,
Dan Patrick
Lieutenant Governor of Texas