I am traveling across Texas to recognize, galvanize, and mobilize rural Texans across the state to vote RED! I started my morning at the Moosehead Cafe in Crockett to rally the community to get out and vote! A lot of great people were there and the decor in the place was fantastic!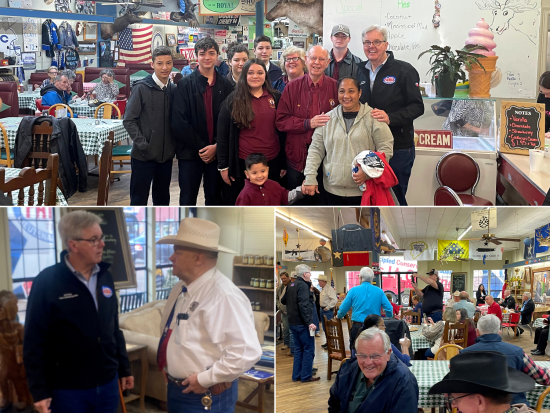 Then, I made my way over to Trinity to tour a local business, the Patriot Trinity Steel Fabricators. I spoke to around 100 hardworking employees about the importance of voting. I also thanked them for their dedication to the job and showing up to the plant every day.
The bus was making great time on the road, so I was able to stop at a coffee shop in Onalaska named Moon Does. I had time for a quick game of checkers. I haven't played in years and forgot how much fun it is. While there, a few Polk County deputies stopped by to say hello. I remember traveling to Onalaska in the spring of 2020 when the area was hit by a tornado. The community has come together to rebuild after that terrible day.
Next, we stopped for lunch at County Seat Cafe in Groveton – I ordered the Philly cheesesteak, one of my all time favorite foods, and it was the BEST I've ever had! There was a great turnout of Republican women who came to show their support.
The next stop was 58 Music Cafe while in Lufkin – which is a beautiful Texas town. It was great saying hello to a bunch of friendly folks. The mayor and I got a photo in front of the Lufkin sign, as you can see I made the letter "i" to make the photo complete. It's one of the photo ops in the city for people traveling through…a pretty cool idea.
Next, my team and I stopped at the Eaton's Hardware Store to get supplies to make a minor bus repair. We met the nicest people while in Corrigan.
We needed to fill up the tank, so we popped into a gas station with a Whataburger attached just to say hi to a few more people and get out the vote! As we were filling up the 150 gallon tank with expensive Joe Biden gas, a little girl with her mom at the station was looking at the bus. We took a photo and I gave her a special pin.
After, we stopped at the Sam Houston Electric Co-Op to speak to their employees and I had to share this photo. How cool is that?
I finished my evening in Jasper. I ate a delicious meal at Martin's Mexican Restaurant and stopped at every table to encourage people to go vote. I also ran into a group of golfers from Montgomery County. We prayed together before dinner.
I then met with some of the members from the Jasper County GOP to discuss legislative priorities and why voting in this election is so important.
When I came out to board the bus to head to Woodville, Texas to stay the night, I felt a moment of great peace when I saw the beautiful church stained glass towering above our big bus. We have been all over this state, well over 100 cities in about 3 weeks. As we come to a close in the next week in this campaign, I thanked God for all the wonderful people I've met along the way, the great sites, great laughs, great food, and all I have learned on our road trip. And I thanked God for keeping us safe over the many miles we traveled on our bus tour. We're now only 12 days away from the election. Please be sure to vote if you haven't already. We will have a record turnout and every single vote is important.
#PatrickBusTour Giveaway: Enter to Win a Campaign Gift Bag!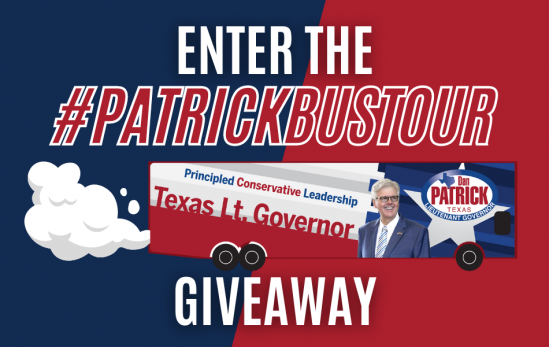 If you see me in your town, take a picture of my campaign bus using the hashtag #PatrickBusTour on social media (Facebook, Twitter, Instagram) and tag @DanPatrick to be entered to win a campaign gift bag! Keep a lookout for the bus – I hope to see you out on the road.
Thank you all for your support and for everything you do to keep Texas red. May God bless you and your family, and may He continue to bless the greatest state of all—Texas.
Sincerely,
Dan Patrick
Lieutenant Governor of Texas