Impending Flood of Migrants When Title 42 Ends
Biden's plan to revoke Title 42 is going to create a tidal wave of illegal migrants pouring into America. I joined Shannon Bream on Fox News @ Night last Thursday to talk about it. You can click here to watch the interview.
Joining the America First Policy Institute in Atlanta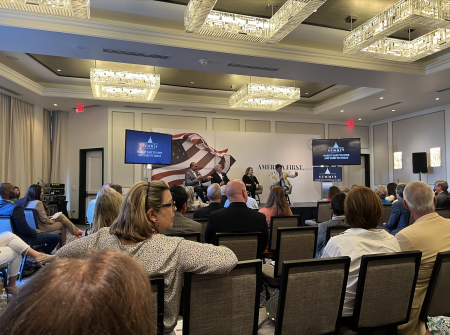 It was great to be in Atlanta on Thursday and Friday to join the America First Policy Institute for a reception, dinner, and general session. It was a privilege to be invited and to participate in a panel on election integrity, where I talked about how Texas is making it easier to vote and harder to cheat.
Here are some more photos from my time there…
A New Poll Confirms: People Are Done with Disney
Have you seen this new poll? It confirms what I have been saying for weeks: Disney has violated their sacred trust with parents. Over 68% of people are less likely to do business with Disney as a result of the company "focusing on creating content to expose young children to sexual ideas."
In case you missed my 'Done with Disney' email a few weeks ago, you can read it here.
May God bless you and your family, and may He continue to bless the greatest state of all—Texas.
Sincerely,
Dan Patrick
Lieutenant Governor of Texas